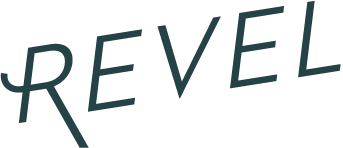 Designer Spotlight: Shoshanna
Happy Friday, Revelers! Today we're excited to feature our first Designer Spotlight: Shoshanna! Beautiful fabrics, pretty patterns, and flattering silhouettes are just a few of my favorite things about Shoshanna dresses. 
Since discovering Shoshanna a few years go, it's become my go-to brand for any and all occasions. I love the fresh, clean aesthetic, but having a dress that I know fits perfectly every time is the icing on the cake. Most dresses even come with an interier bustier for perfect support and fit. Zipping up a Shoshanna dress always makes me feel beautiful, put together and ready to hit the party!
As a bride, these pretty frocks are perfect for engagement pictures, rehearsal dinners or bridal luncheons. For even more Shoshanna dresses, check out their website here.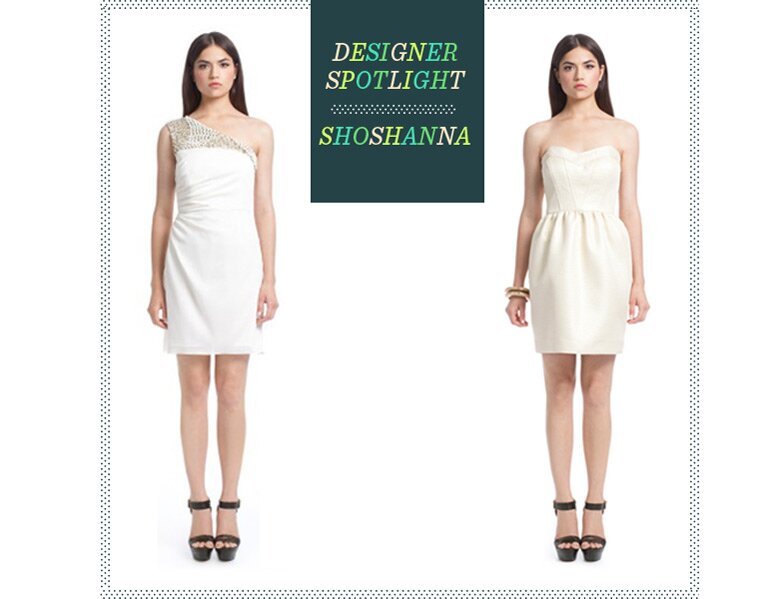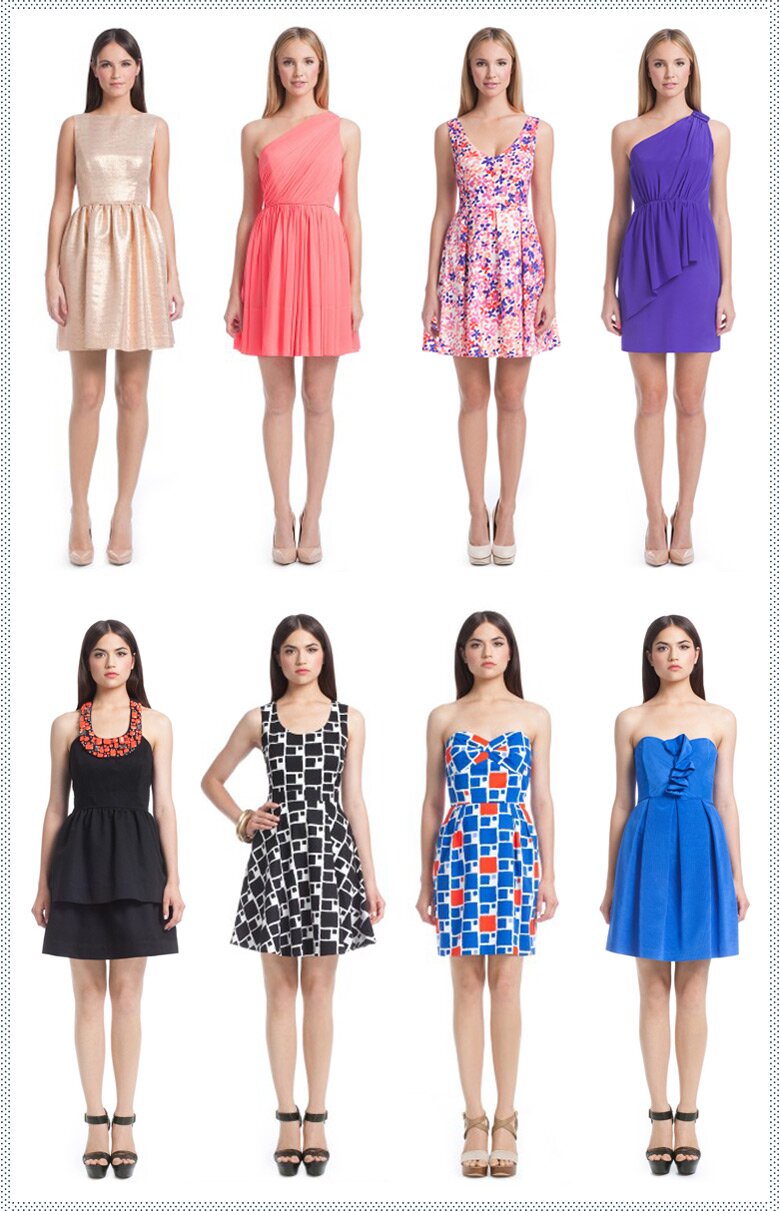 To see other Shoshanna dresses we've featured, check out our Valentine's Date Night or Glam Orange + Succulent, Navy + Evergreen and Modern Lime + Yellow  wedding inspirations!
Reilly Dress
We love the funky Gustavia print of this modern strapless Reilly dress. Features a sweetheart neckline with pleated bust detail, interior bustier and pleated front skirt. 
$395
Sabrina Dress
The Sabrine dress in the graphic mod print features a scoop neckline with full circle skirt and lined, boned bodice. 
$360
Odette Dress
Perfect for a summer wedding, the Odette dress in Bluebird features a sweetheart neckline with front bodice drape, piping at waist, pleated skirt with pockets and lined bustier bodice. 
$305
Beaded Allegra Dress
The perfect little black dress for summer, this cotton Allegra dress features an embellished halter neck with button closure at center back, interior bustier and shirred skirt with two layers.
$418
Beaded Lydia Dress
The beaded Lydia dress would make a great rehearsal dinner dress! Elegant one shoulder with beaded front yolk, draped front bodice and skirt with side seam invisible zipper. 
$405
Tristen Dress
Perfect for bridal showers, luncheons or your honeymoon, this pale gold metallic strapless dress features seaming detail and interior bustier at bodice with shirred skirt. 
$340
Tillie Dress
Romantic and modern, this shimmering statement dress is made of rose gold metallic jacquard. Features a fitted bodice with pricess seas, flat self-piping detail at waist and full shirred skirt with hidden side seam pockets. 
$330
Jackie Dress
A bold floral print in various shades of pink, coral and purple patterns this flattering Jackie dress. Princess seams contour the fitting bodice, complimented with a flattering V-neckline and full pleated skirt with side seam pockets.
$395
Rayna Dress
This one-shoulder Rayna dress is artfully crafted in a Neon Peach pebbled silk chiffon. Features delicate pleating lends a hint of Grecian charm, self-piping at waist, boned bodice and full skirt with hidden side seam pockets. 
$375
Celine Dress
This beautifully draped silk crepe de chine one-shoulder Celine dress is fitted at the bodice and finishes in cascading ruffles at the front skirt. Boning structures the bodice while pleated tab detail wraps around the shoulder.
$365
---


---
---
---