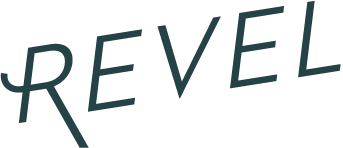 Expert Q&A: Bridal Beauty Basics (Part I)
I know everyone tells you as a bride-to-be, "It's your big day!', "You're the star!" None of it sank in until the moment when literally hundreds of people were staring at me.  Really. Everyone cranes to see the bride as she comes down the aisle, jostles to see the bride, talk to the bride, take photos with the bride. 

Which means that you want to feel really great about how you look. And here's the trick. What looks great in person isn't necessarily what pops in photographs. And makeup looks different in daytime than nighttime. And so, time for some Bridal Beauty Basics.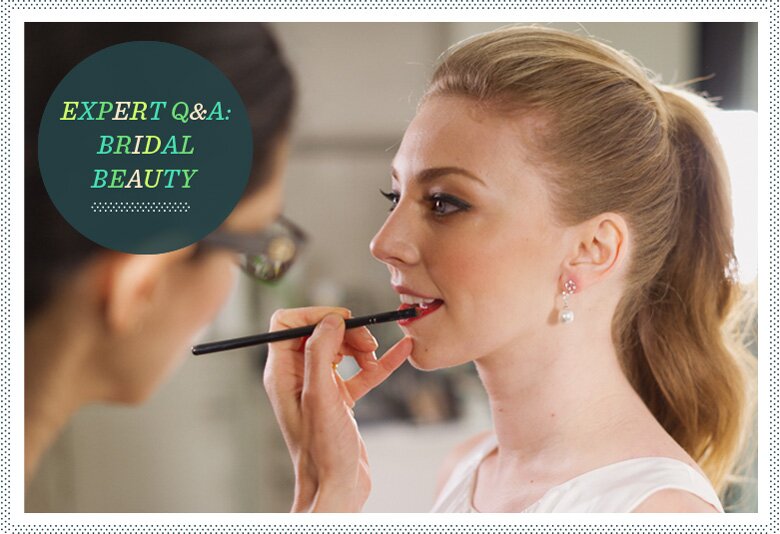 Today, we chat with Linsey of Face Time Beauty Concierge about bridal beauty basics. She's worked with stars like Gwyneth Paltrow and Selma Hayek, but brides is what Face Time focuses on.  Linsey and her team visited us in our studio to show us how to build a beautiful daytime classic look, and how to make it pop for photographs and evening with a quick change of lip color.  Trent of Trent Bailey Photography shot these pretty photographs of our model. Ready?

We began with building a base that works for any look:  evening the skin tone with foundation and concealer, defining the brows. After that, Maysoon worked on the eyes, using coppers and browns under the eye, a lighter sandy-colored cream shadow on the lid, and more coppers and warm browns on the crease.  For the cheeks, she applied a coral tone for a pretty glow. A light shimmery pink was used on the lips to keep the fresh, natural feel. Finally, a pink shimmer was applied all over, and of course, some false eyelashes.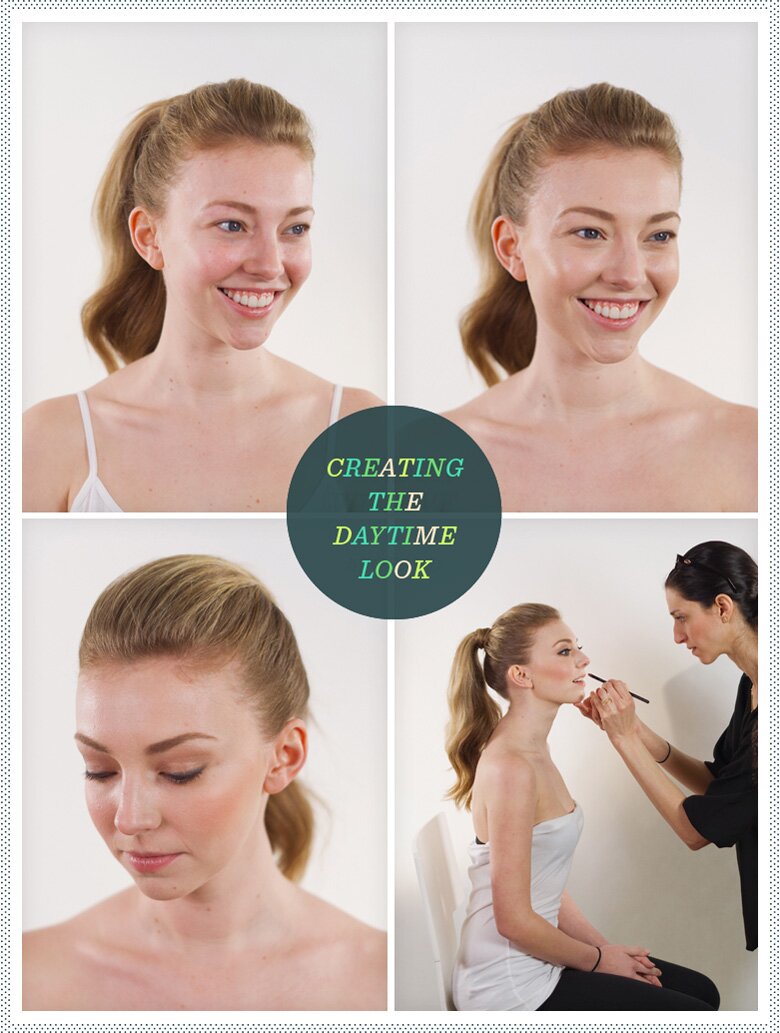 The resulting look is perfect in person for a daytime event. The bride has a natural glow and the soft pink and earth tones enhance her features without leaving her looking "made up."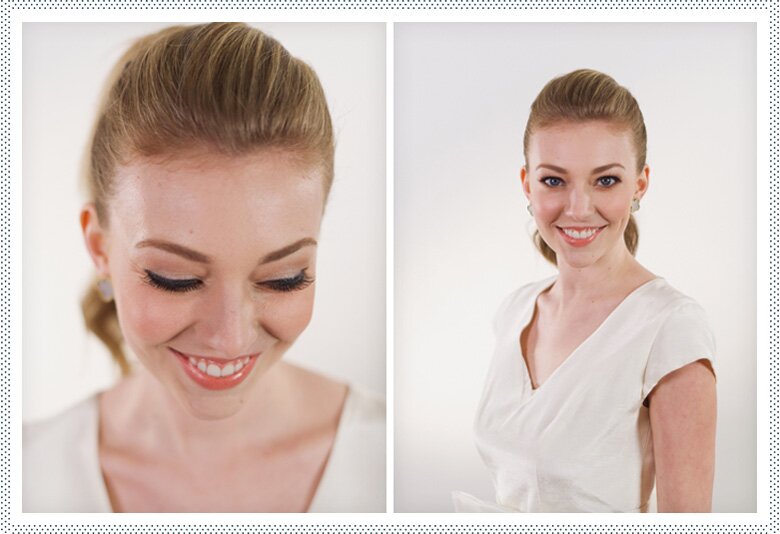 For an evening event, the look is also very pretty for brides wanting a soft, dewy look.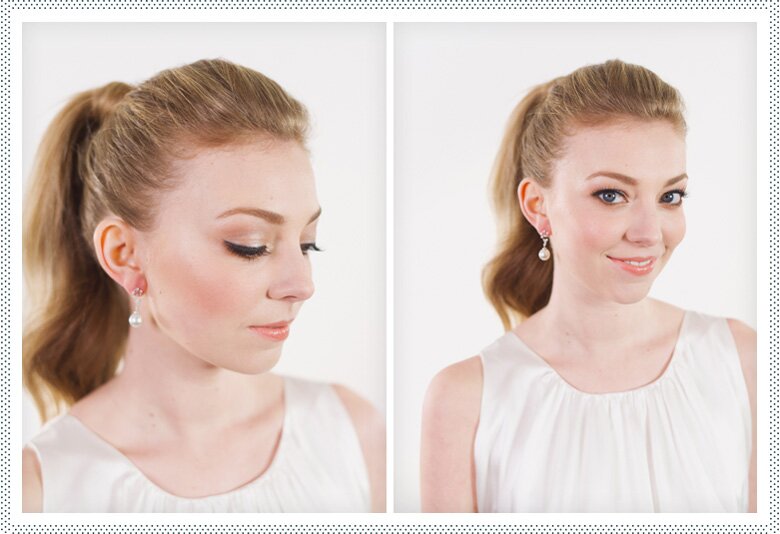 To add some "pop" for a day-to-evening event, or for photographs, we kept the makeup entirely the same, but switched out the lipstick to a strong deep red.  This is a beautiful contrast for photographs, and brings out the bride's features in an evening setting with low light.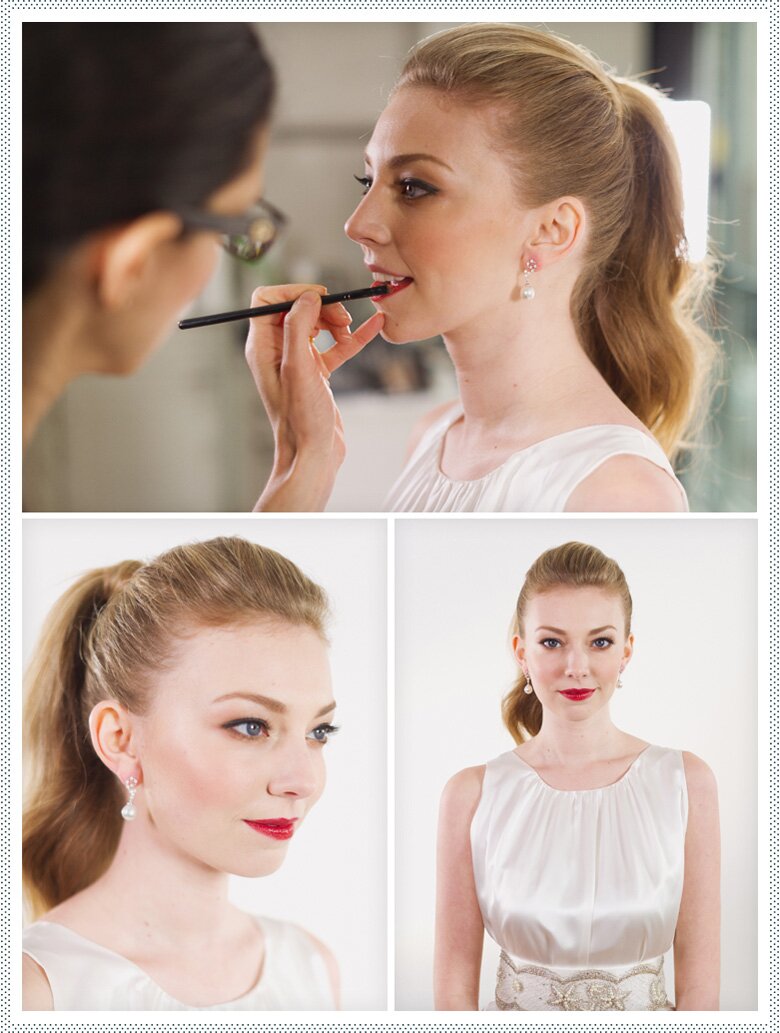 Visit us next week, when Linsey shows us how you can incorporate a bit of runway color onto the same makeup base for your reception,  and how to glam up this base makeup look with dramatic gold shadow for the evening.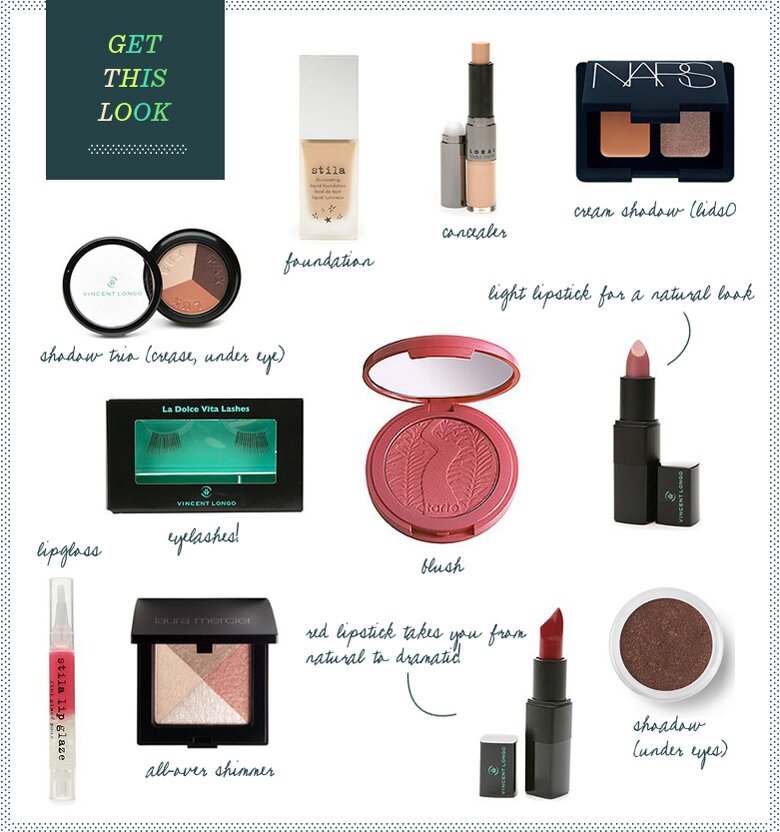 Click on any image above for details on prices and sourcing.
Want to work with Linsey and her team of experts? Visit them at Face Time Beauty Concierge.
Want a photographer who'll make you look like a star? These snaps were by Trent, at Trent Bailey Photography.
Deep Red Lipstick
Switch from a natural to a deep red lipstick to add some drama for nighttime or drama for photos. Vincent Longo's Velvet Riche lipstick is a rich, refined, modern version of the classic 1950's cream lipsticks. Enriched with essential oils, vitamin E, and beeswax to moisturize and nourish lips and ensure long wearing, anti-feathering wear.
$23
Coral Blush
Coral blush lends a pretty pink glow to the bride. This Tarte amazonian clay 12-hour blush is infused with natural clay harvested from the banks of the Amazon River and naturally baked by the sun.
$25
Pink Shimmer
Apply over after completing your makeup look to give you an allover shimmer! Laura Mercier Shimmer Bloc is a unique baked formula that applies effortlessly while brightening the eyes, cheeks and body with a hint of natural colour and light. Contains light-reflecting properties that blend together to give the skin a healthy allover glow. The modern wearable pearl leaves the skin gleaming without being too frosty or metallic.
$38
Lip Gloss
After applying lipstick, add this lip gloss for a little polish on the lips. This lip gloss from Stila comes in a convenient pen format and matching flavors - Fruit Punch, anyone?
$22
Light Lipstick
A light and natural shade of lipstick keeps the look dewy and fresh. This Vincent Longo Baby Balm lipstick feels amazing - moisturizers combine with pigments to provide a sheer veil of sheen and color rendering the lips naturally sexy.
$28
Warm Brown Eyeshadow
This warm brown shadow is perfect for adding under the eye for warmth and definition. This shadow by BareMinerals has an all-natural consistency that makes them easy to apply and blend seamlessly. Lasts all day long.
$13
Cream Shadow
Cream shadow on the lids creates an intense shimmer. Cream-to-powder formula provides glistening color and is non-creasing.
$34
Eyeshadow Trio
This shadow trio provides the perfect neutral shades to create shimmer, depth and contour for the eyes. This Vincent Longo trio includes three shades of coordinating creme powder eyeshadows. Sex/Lux/Pax formula has an intense pearl finish so it's best suited to high fashion styles and evening lighting. Highly pigmented for all-day wear.
$30
False Eyelashes
No look is complete without some false eyelashes for some extra vavoom. These by Vincent Longo include both lashes and glue.
$15
Double Feature Concealer
A good concealer is a crucial foundation piece of any makeup look. LORAC's Double Feature Concealer/Highlighter delivers a duet of correction and perfection with a Concealer, a Highlighter and hygienic Blender Ball all in one slim stick.
$25
Liquid Foundation
A good liquid foundation is essential for creating the perfect "canvas" for your makeup. This Stila Liquid Foundation has a silky, lightweight formula that glides on effortlessly for sheer to medium coverage that hides flaws and imperfections so you're left with a luminous, air brushed look. Infused with Mica, tiny crystals found in nature, this skin illuminator reflects light, leaving you radiant and glowing.
$38
---


---
Deep Red Lipstick > beauty.com, Coral Blush > rstyle.me, Pink Shimmer > rstyle.me, Lip Gloss > rstyle.me, Light Lipstick > rstyle.me, Warm Brown Eyeshadow > rstyle.me, Cream Shadow > rstyle.me, Eyeshadow Trio > rstyle.me, False Eyelashes > rstyle.me, Double Feature Concealer > rstyle.me, Liquid Foundation > rstyle.me
---
---