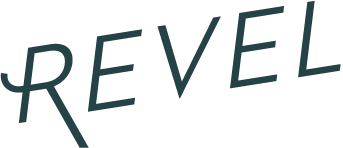 Home to Wedding: Michelle + Adam
There's not one couple that doesn't want their wedding to reflect who they are. If it's a cookie-cutter wedding, why bother? How to make it happen is a different matter entirely. Welcome to REVEL's Home to Wedding series. Your home already reflects who you are, why not use your favorite elements to inspire your wedding? If you are living separately, draw inspiration from both.

My husband Adam and I have shared our Clinton Hill, Brooklyn home (below) for three years. I'm artsy, love bright colors, and will purchase anything at a flea market before a big store. Adam is a musician, loves vintage maps, and prefers buying quality pieces new that will last a lifetime. Our apartment is a mixture of vintage finds, like the yellow lamp, and new pieces, like our leather dining chairs. Together, our styles mesh to create a creative, colorful space that we both love.

Here's what our wedding would look like today based on favorite elements from our home. Colorful, eclectic (not too matchy-matchy, please), and inspired by music (guitar-pick cupcakes? yes!), color, maps, and Brooklyn!
It's all shop-able. Click on any image for details on prices and sourcing. Photographs of Michelle and Adam's home by Jessika Creedon, and photograph of Michelle and Adam by Gina Zeidler.

For more on creative weddings, see our Expert Q&A post here. 

Want to be part of a Home to Wedding post? Email us with pictures of your home(s) and your wedding ideas! Or visit Michelle at Michelle Edgemont to see how Michelle can create a Home to Wedding design for you!
MRS Letters
Plastic marquee letters are perfect for a cute engagement shoot or wedding prop to remind everyone of who is really in charge.
$11
Charge Ahead Wedding Invitations
Rock n Roll inspired invitations with a vintage feel bring together Adam's love of being a musician and Michelle's love of flea market finds.
$204 for 100
Vintage Map
We love vintage maps and traveling! This colorful, vintage map would be perfect as a photobooth backdrop!
$90
Colorful Tablesetting
Just like the patterned pillow on my bed, liven up a bare table with fun, colorful napkins made out of an interesting fabric. Image: Design Sponge
$8.99 per yard
Guitar Pick Cake Topper
Infuse his love of playing guitar into the wedding by using guitar picks as cupcake toppers. Image: Style Me Pretty
$3.21 for 12
Groom's Suit
Pair a tailored wool suit with contrasting patterns on the groom's tie and shirt to create an artsy look.
$355
Vintage-Style Guitar
Vintage-style Fender Blacktop alnico humbucking pickups deliver the hot high-gain power of today's most aggressive sounds.
$499.99
Floral Inspiration
Arranging your flowers in vintage tin cans for centerpieces adds an eclectic and unique look to each table. Image: Snippet & Ink
$31. 69 for 4 piece set
Brooklyn Brine Whiskey Sour Pickles
Place jars of Brooklyn pickles on the tables for guests to munch on before dinner is served.
$9.99
Gold Earrings
I love these gold earrings by House of Harlow - adds a little rock and roll vibe to the bride's look. Music isn't just for the boys!
$75
Instax Camera
It's the new Polaroid. Use an Instax camera throughout the night to take photos that you'll have instantly.
$124
Antique Coasters
We love our Edgemont coasters that we received as a gift. A quick search on Amazon or antique sites for your shared last name might reveal some fun props to use at your wedding.
$14.95
Yellow Bridesmaid Dress
Bring in pops of sunny yellow with this grosgrain bridesmaid dress by 57Grand. Pleats, pockets, and a swing skirt? Yes, please!
$240
Grosgrain Bridal Dress
This 57Grand dress feels vintage, playful and flirty. Just how I like to play it!
$495
Brooklyn Gum
Brooklyn Chewing Gum is not actually made in Brooklyn, but it is one of the most popular chewing gums in Italy, where it was created in the 1950s!
$2.23 per pack
Learn more about Michelle!
Want to learn more about Michelle? Want help combining your personal styles for your event? Michelle can help bring it all together! Visit her at her website here.
---


---
MRS Letters > etsy.com, Charge Ahead Wedding Invitations > minted.com, Vintage Map > etsy.com, Colorful Tablesetting > ikea.com, Guitar Pick Cake Topper > amazon.com, Groom's Suit > gap.com, Vintage-Style Guitar > guitarcenter.com, Floral Inspiration > snippetandink.com, Brooklyn Brine Whiskey Sour Pickles > amazon.com, Gold Earrings > rstyle.me, Instax Camera > photojojo.com, Antique Coasters > amazon.com, Yellow Bridesmaid Dress > 57grand.com, Grosgrain Bridal Dress > 57grand.com, Brooklyn Gum > grancaffevuotto.com, Learn more about Michelle! > michelleedgemont.com
---
---