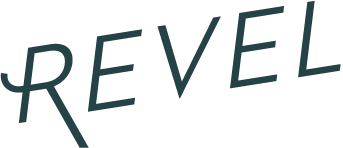 Shop Martha Stewart Weddings on REVEL!
I know you, dear reader.  You've got impeccable taste, and as such you've already snagged and studied the summer issue of Martha Stewart Weddings.  You know, the one with the adorable favors on the cover, in either pink, yellow and orange, or blue and green? (Haven't seen the issue? Get it here.)
Well, I hope you're sitting down. What I'm going to tell you might make you a bit giddy. For the first time ever, you'll be able to shop selected items from the current issue of Martha Stewart Weddings, all in one place, exclusively on REVEL.  
We'll start you off today with some of our favorite pages from the Summer 2013 issue, like these perfectly personalized pieces.  You know how it works, click on any item you like for more information, or to buy it.
There's nary a good wedding magazine read without a good, long stare at some dreamy wedding gowns.  Here is the much beloved gown gallery: 
Last but not least, a peek at this issue's featured color story, Emerald + Jade.  Not so unlike our Emerald + Mint and Emerald + Chartreuse inspirations. See? Great minds think alike. 
Want to see all the Martha Stewart Weddings featured items on REVEL?  Head on over to the REVEL shop.  Happy shopping, ladies!   
18k Gold Charms
These charms come in over 60 motifs and make sweet' maid gifts. Or, build an heirloom and add to a bracelet. 18k gold charm with black cord included. As seen on pg. 50. 
$350
Sugar Blooms
Match cake to bouquet with sugar blooms from Sugar Flower Cake Shop. As seen on pg. 50. 
price upon request
Paper Tags
Invitation hang tags are the perfect finishing touch for your party, shower or wedding invitations! Customized hang tags aren't just for your invitations; we love them sitting atop favor boxes, sweet treats and more. As seen on pg. 50. 
$12 for set of 18
Postcard Clip
Small postcard in sterling silver with 'I Love You', postmark and date engraved on the front. As seen on pg. 150. 
$215
Linen Napkins
These flax-toned 100% linen napkins will soften with age and use. Machine washable, the grosgrain ribbon border offers a pop of color – match or contrast the ribbon with your favorite font, from sassy to sophisticated. As seen on pg. 50. 
$48 for four
Pewter Cake Server
Match Pewter is handmade by artisans in the north of Italy. Each piece is made with an alloy that is food safe, lead-free, FDA approved, and requires little or no care. As seen on pg. 50.   
$115
Custom Fragrance
In-studio evaluation followed by creation and revision of up to 10 formula variations, from which 1 is chosen. As seen on pg. 51. 
$270
Correspondence Cards
Engrave your name or that of a loved one or friend on this one-of-a-kind correspondence from Dempsey & Carroll. The 6-ply cards are hand-engraved in citrine and cranberry inks on 100% cotton-fiber paper. As seen on pg. 51. 
$1,775 for 100
Custom Lip Color
Three Custom Color Specialists can reproduce your favorite discontinued lip color shades or we can create a lip color for you from a color swatch that you provide. Your "recipe" then remains in our permanent files for easy re-ordering! As seen on pg. 51. 
$60 for two
Made-To-Order Shirts
J.Hilburn Style Consultants are trained to assist in defining your style. Whether you need a custom shirt or want to build out an entire custom wardrobe. As seen on pg. 51. 
$129
Jumbo Waterproof Liner
These jumbo pencils create a range of effects, from bold lines and blended effects to thin, defined lines. Resistant to water, heat, and humidity, their creamy, high-pigment formulas apply smoothly. From deep blacks to rich and shimmery shades, each is formulated with exclusive waxes and pigments to assure maximum color intensity that stays put for 12-hours. As seen on pg. 160. 
$14
Liquid Eye Liner
Calligraphy Liquid Eye Liner creates strikingly definitive eyes with a waterproof formula that offers all-day staying power. The line dries quickly to prevent streaks, smears, and transfers. As seen on pg. 160. 
$32
Perfecting Translucent Illuminator
Radiant skin is at your fingertips with this hybrid cream/gel formula that blends effortlessly for a luminous finish that lasts for up to 12 hours. The shimmery nude illuminator has a translucent texture to add subtle color and reflect light to smooth the skin for a fresh and naturally flawless complexion. As seen on pg. 160. 
$14.99
Sateen Sheets
Inspired by one of the greats—Dorothy Draper—this collection unites graphic grandeur and simple comfort with bold horizontal stripes. As seen on pg. 176. 
$232 (sale)
Silk Goddess Gown
Featherlight silk georgette sends ethereal movement through the flowing skirt of this Reem Acra gown, while twinkling crystals and pearlized beads bejewel the sheer mesh yoke and shoulders. Delicate ruching creates a crinkled effect throughout, and a ruched band emphasizes the nipped waist. As seen on pg. 204. 
$5, 995
Grecian Illusion Gown
Marchesa crafts a creamy silk-georgette gown in a romantic, Grecian-inspired silhouette. The sheer mesh yoke is trimmed in exquisitely beaded lace, and ruched bands crisscross the boned, empire-waist bodice, which is trimmed with delicate, sequined lace insets. A rippling asymmetrical panel sends graceful movement through the layered skirt, and the uneven hem trails behind for a striking finish. As seen on pg. 204. 
$5,200
Lace-Trimmed Silk-Chiffon Gown
Synonymous with Parisian sophistication, Nina Ricci's feminine aesthetic is perfectly suited to the modern bride. This featherlight, crinkled silk-chiffon gown is strewn with floral lace appliqués and delicately ruffled trims. Fitted at the body, the flowing skirt will move beautifully as you walk down the aisle. As seen on pg. 208. 
$5,790
Diamond X Bracelet
Blackened 18k white gold 'X' bracelet by Eva Fehren set with white pave diamonds. As seen on pg. 333.
$15,000
Hard Candy Sticks
Delicious and colorful hard candy sticks are a timeless treat for the young at heart. As seen on pg. 51. 
$12
Breton Matelasse Gown
Created by the most skilled craftsmen, Roland Mouret's couture-like ivory matelasse gown is a show-stopping choice for the modern bride. The dramatic neckline, oversized waist bow and open back ensure this style is unforgettable. As seen on pg. 333.
$6,944
Gold Glitter Evening Sandals
The India is part of the Jimmy Choo's CHOO 24:7 collection. This perfect strappy sling back sandal, in shimmering champagne glitter fabric with subtle tonal contrasting on the heel will certainly make a statement. Heel measures approximately 85mm/3.3 inches in height. As seen on pg. 331.
$550
Monogrammed Soaps
The perfect little gift at the perfect little price! Peppermint Guest Soaps offer a wonderfully refreshing scent. Go ahead, pamper yourself and your guests with our handcrafted soaps.  These vegetable based bars are triple milled and include moisturizer for a rich creamy lather. As seen on pg. 51. 
$22 for four
Clover Gown
Hovering somewhere between a lacy Edwardian nightdress and a throw-it-on beach cover-up, this gown from J. Crew has something refreshingly simple, perfectly summery and just plain old pretty about it. Made of a beautiful lightweight linen eyelet and embellished with embroidered floral vines and a delicate silk organza inset for an extra dash of romance. A whisper of picot-edged organza also adorns the hem of the sheath skirt. As seen on pg. 328.
$1,500
Taper Candles
The Bee Man Candle Company is about product quality, design innovation, sustainable practices and promoting social entrepreneurship to encourage positive social change. 100% Bees Wax Candles made in 34 different colors, naturally smokeless, drip-less and long burning. As seen on pg. 51. 
$15 for two
Fiskars Paper Edgers
Add a soft border to photographers with these Deckle Fiskars paper edgers. As seen on pg. 319. 
$3.77
Embellished Dal Sandals
These intricate sandals from Rachel Roy would be a stunning addition to any wedding day look. Featuring a leather upper embellished with sparkling crystals and gold-tone hardware. 4 1/2 inch heel. As een on pg. 321. 
$210
Embroidered Goa Clutch
A signature of the Oscar de la Renta handbag collection, the Goa clutch features geometric crystals hand-embroidered on silk by master artisans. As seen on pg. 260. 
$1,550
Origin's Ten Minute Mask
Origin's Ten Minute Mask will quench your skin's thirst! Best for combination dry skin. As seen on pg. 162.
$23
Black Elastics
Easily and conveniently style your hair with thin ponytail elastics from Goody. Versatile black bands are basic staples in any hair accessory collection. Ready for use whenever you need a quick ponytail or a more elaborate hairstyle. As seen on pg. 164. 
$3.49 for 51
L'Oreal Elnett Satin Hairspray, Extra Strong Hold
Elnett offers long-lasting hold with a brilliant shone and a satin touch. It's mico-diffuser sprays ultra-fine and disappears at the stroke of a brush, leaving hair clean and shiny with a satin touch. Products your style agains the effects of humidity. As seen on pg. 164.
$14.99
Aveeno Foaming Cleanser
This light foaming cleanser calms and soothes dry, irritated skin while gently cleansing, so your skin looks and feels back to its healthy best. This unique foaming wash contains an extract of Feverfew, a natural ingredient related to Chamomile known for its soothing properties, with gentle, soap-free skin conditioning cleansers to lift away dirt, oil and makeup, without over-drying and aggravating sensitive skin. As seen on pg. 162.
$6.37
Boots No7 Beautiful Skin Cleansing Balm
A gentle, non-drying balm that cleverly dissolves make-up and impurities to help keep skin looking clear and healthy. Works in one simple step leaving no residue, just perfectly clean, soft and supple skin. It includes replenishing ceramides to help nourish dry skin and Glycerin and cocoa butter for deeper hydration. Hypo-allergenic. As seen on pg. 162.
$8.49
Louisa Silk Chiffon Bridesmaid Dress
This sweet, floaty dress in crinkled silk chiffon from J. Crew features a pleated bodice and a ruched waist for some added swing. Available in 15 colors. Shown in Dusty Shale. As seen on pg. 316.
$250
Taryn Silk Chiffon Bridesmaid Dress
A great strapless silhouette from J. Crew that's soft and romantic in floaty silk chiffon with a delicate crinkled texture. Features a twisted bodice and a softly pleated empire waist. Availabel in 19 colors. Shown in Dusty Shale. As seen on pg. 316.
$179
Arabelle Silk Chiffon Bridesmaid Dress
This strapless dress from J. Crew is made of a floaty, lightweight silk chiffon with a delicate crinkled texture. It features a sweetheart neckline with a Grecian-inspired draped bodice, pretty ruching along the sides and a delicately pleated and shirred waist. Available in 15 colors. Shown in Dusty Shale. As seen on pg. 316.
$250
Lucienne Silk Chiffon Bridesmaid Dress
Flowy and incredibly sophisticated, this stunning dress from J. Crew features careful pleating all along the fitted bodice and a single shoulder strap that swoops up dramatically, it's finished with a flouncy skirt for an aura of sheer perfection. Available in 17 colors. Shown in Dusty Shale. As seen on pg. 316. 
$200
Ludlow Tuxedo Jacket
A special piece for the most special of occasions, this Ludlow tuxedo jacket from J. Crew is made of Italian wool from Lanificio di Tollegno (est. 1862), one of the oldest mills in Italy and one of the last to still spin its own yarns. Ludlow features a trim, tailored fit with our signature 2 1/2" lapel and is finished with bespoke-inspired details including a hand-finished collar and a full interior lining. As seen on pg. 296.
$525
Tinted Moisturizer
Laura Mercier created this product to give skin a healthy 'no-makeup' look with a soft hint of colour that evens and enhances without hiding the skin. As seen on pg. 160. 
$43
One Sweep Blush
The One Sweep™ Sculpting Blush Duo instantly enhances cheekbones with an instant sweep of blush and sculpting color. The unique brush applicator flawlessly applies 2 shades in a single sweeping motion. As seen on pg. 160. 
$13
Ultimate Suede Lipstick
Is your lipstick giving you both moisture and wear? This velvety soft formula with moisturizing shea butter and aloe is food proof and doesn't quit. 20 Shades. Apply once and go. As seen on pg. 160. 
$10
Argan Rose Cream Buff
A decadent salt polish that helps return dry skin to a healthy, moisture balanced state. Clarisea's fine grain blend of Pacific Ocean and Himalayan Pink Mineral Salt, lightly buffs away dead cells, clearing the way for Organic Argan Oil, rich in Vitamin E and Essential Fatty Acids to heal, condition and moisturize skin. As seen on pg. 160. 
$26
Zoe Cushion Cut Diamond Ring
1.22ct white pave diamond ring by Zoe with cushion cut diamond set at face. As seen on pg. 130. 
$19,770
Curl Defining Cream
The Curl Defining Cream especially formulated for curly hair, provides conditioning and smooth separation without weighing hair down. As seen on pg. 160. 
$24
Narrow Stripe Suit
Tropical wool two-piece suit from Michael Bastian in narrow stripe pattern. Available in Blue. Imported. Wool, cotton/viscose lining. Dry clean. As seen on pg. 116. 
$599
Embroidered Sateen Sheet Set
The pretty shape of a seashell, a coral embroidered hem lines a scalloped edge to make our coral sheet set the ultimate source of luxury. As seen on pg. 176. 
$159-199
Bundi Indigo Sheets
Combining various scales is a sure way to engage the eye. With this in mind, John designs small-scale bed linens to complement bolder duvets. As seen on pg. 176. 
$95-210
Nicole Miller Lindsay Gown
For the boho-chic bride who still wants to shimmer, the blouson-topped sequined ivory "Lindsay" dress by Nicole Miller maintains kicked-back cool. As seen on pg. 206.
$3,200
Serenity Pillowcase
After a stroll, everyone is feeling tranquil and serene. It is the moment for plain colors. A new plain percale in soft 6 shades, simply finished, with white piping, on the edge. Serenity harmonizes perfectly among the other collections. Available in six colors. shown in Celadon. As seen on pg. 176. 
$120 for 2
Natori Solid Towels
A soft, luxe towel collection as you've come to expect from Natori. Made with NatoriCotton. Available in 8 colors. As seen on pg. 180.
$9.99-49.99
New York Mille Fleurs Sheet Set
New York Mille Fleurs sheet sets, pillow shams and duvet covers in printed cotton percale or cotton voile, finished with scalloped or wavy bias. As seen on pg. 176.                                                                                    
$2,200
Square Glassine Envelopes
These small square glassine envelopes from Paper Source are perfect for holding the tiniest of treasures. Fun to use in scrapbooks, wedding invitations, and as favor bags. 3 1/2" x 3 1/2". As seen on pg. 226.
$8.95 for 50
Gold Flatware
This elegant gold flatware from West Elm features an electroplated stainless steel core that makes it sturdy enough for everyday use. A five-piece set ensures that you have all the right utensils at hand, whatever the occasion. 5-piece set includes one of each: salad fork, dinner fork, dinner knife, tablespoon and teaspoon. As seen on pg. 222.
$29 for a set of 5
Guirlande de Lierre Duvet
Guirlande de Lierre green, sheet sets, pillow shams and duvet covers gracefully hand-embroidered on white cotton percale.  Other embroidery colors available. As seen on pg. 176. 
$1,500
Egyptian Cotton Flat Sheet
Delicate Swiss-made lace subtly accents sateen in White or Ivory woven from the finest quality Egyptian cotton for a collection that elevates the bedroom into a luxurious, romantic sojourn. As seen on pg. 176. 
$675
Bijoux Table Linens
Drench your table settings in cool colors and pleasing textures with these exquisite table linens from Kim Seybert. Featuring leafy vine detail on the napkins. As seen on pg. 178.
$240 for a set of 4
Brushed-Twill Sheet Set
Ultimately soft in brushed cotton twill, this Lacoste sheet set is the perfect blend of sporty style and laid-back comfort. The signature Lacoste croc logo adds preppy flair to the flat sheet and pillowcases, now in a wide array of vivid hues. Available in 12 colors. Shown in deep sea coral. As seen on pg. 176. 
$120
Ivory Classic Linen Napkin
Classic hemstitched linen is given a modern infusion of color to create this fresh, versatile collection from Pottery Barn. In saturated hues, made even richer by linen's natural luster, texture and drape, these solid place mats and napkins are anything but plain. Available in 8 colors. Shown in Ivory. As seen on pg. 178.
$36 for a set of 4
Blue Smoke Classic Linen Napkin
Classic hemstitched linen is given a modern infusion of color to create this fresh, versatile collection from Pottery Barn. In saturated hues, made even richer by linen's natural luster, texture and drape, these solid place mats and napkins are anything but plain. Available in 8 colors. Shown in Blue Smoke. As seen on pg. 178.
$36 for a set of 4
Pleated Silk Chiffon Dress
This Catherine Deane sun ray pleated silk chiffon dress has an embellished neckline detail and lace back. As seen on pg. 204. 
$1,500
Tulle Overlay Dress
This Jenny Yoo dress features a criss-cross v-neck crystal beaded tulle overlay with sweetheart neckline under bodice. The waist hits just above the natural waistline with a mirrored criss-cross tulle overlay in the floor length skirt. As seen on pg. 204. 
$1,495
Silk Georgette Mermaid Gown
This Silk georgette mermaid gown from Peter Langner is adorned with cut rows and little folds. A soft draping brushes the shoulders on the back. As seen on pg. 208. 
$6,380
Fit-to-Flare Gown
Trellis point d'esprit fit-to-flare gown from Christos's is  draped with tip-of-the-shoulder detailing and inverted godet skirt. As seen on pg. 208. 
$4,500
Lace-Appliqué Mermaid Gown
This Vera Wang Lace-Appliqué mermaid gown uses draped, table-pleated silk. As seen on pg. 208. 
$7,900
Embroidered Organza Ball Gown
This embroidered organza ball gown from Rosa Clara is box pleated at the waistline. Available in four colors. Shown in Ecru. As seen on pg. 208. 
$3,750
Satin Picot Ribbon
Match your wedding colors on your bouquet with satin ribbon from Hyman Hendler & Sons. As seen on pg. 256. Bouquet by Ariella Chezar.
$12.50 a yard
Penhaligon's English Fern
Created in 1910, English Fern is a completely unique, fresh and earthy tonic of a fragrance. Field-fresh clover, lavender and geranium bed down with woods, patchouli and moss to create a rich, spiced green scent that oozes Englishness. It captures that slightly soapy, just washed feeling with elegance and a touch of sensuality. As seen on pg. 256. 
$85
Un Jardin Sur le Toit Fragrance
Pear and wild grass smell crisp in this Hermès fragrance. As seen on pg. 256. 
$128
Heeley Figuier Eau de Parfum
Green leaves and luscious fruit inspire Heeley's Eau de Figuier, which is centered upon the idea of a Mediterranean fig. The verdant spiciness of lime accents this alluring composition, which emphasizes the delicious sweetness of sun warmed figs. As seen on pg. 256. 
$180
Green l'eau de parfum
Miller et Bertaux L'eau de parfum #3 Green, green & green is appropriately named, for it is a vivid, intoxicating burst of green. The scintillating composition of bay leaves, white jasmine, verbena and verdant sap is reminiscent of the first greens of spring—unfolding buds, new grasses and first flowers. As seen on pg. 256.
$145
Thé Vert & Bigarade Eau de Toilette
Perfect for both women and men, the fresh and vibrant Thé Vert & Bigarade Eau de Toilette is a lively encounter of aromatic and citrusy freshness. Sparkling citrus notes burst forth in an accord of sweet and bitter orange while hints of green trea and yerba maté give a softening touch before the aromatic base. As seen on pg. 256. 
$75
'Eau Parfumée au thé Vert' Eau de Cologne Spray
Structured around the refreshing vitality and purity of green tea, it is an expression of elegance and personal indulgence. Ideal for men and women who seek sensations of well-being through simple, everyday gestures and rituals. As seen on pg. 256. 
$120
Slim Skirt Dress
This dress by Sophia Kokosalaki has a slim skirt to elongate the legs. As seen on pg. 204. 
$1,720
Silver Leaf Wedding Cake
Delicate silver leaf makes a stunning addition to this modern wedding cake by Martine's Pastries. As seen on pg. 300. 
$25
Amazingreen Eau de Parfum
A blast of green energy. An evocation of the lush exuberance of nature. A fusion of green notes and gunpowder. As seen on pg. 256. 
$95
Loose Leaf Tea
One sip of this tea and you'll do anything to get your hands on more. In fact, we're a bit worried about letting people get a taste. There might be riots. Looting. Traffic jams. It's a lot of responsibility! But who can blame you for going crazy over this delicious white tea? As seen on pg. 51. 
$10.50
Coated Chocolate Flavored Candy
A yummy party treat for guests, MarthaCelebrations coated chocolate flavored candies have a shiny, colorful shell making them ideal for use as a fun decorating element. As seen on pg. 51. 
$12
Gumballs
MarthaCelebrations gumballs add a classic touch and taste to party favors and decorations. As seen on pg. 51. 
$10
Python Clutch Bag
The Kara Ross Emalia clutch has the pomp to complement your evening look and just the right amount of space to carry all the essentials. As seen on pg. 50. 
$990
---

---
18k Gold Charms > dodo.it, Sugar Blooms > sugarflowercakeshop.com, Paper Tags > smittenonpaper.com, Postcard Clip > asprey.com, Linen Napkins > markandgraham.com, Pewter Cake Server > match1995.com, Custom Fragrance > hello-nova.com, Correspondence Cards > dempseyandcarroll.com, Custom Lip Color > threecustom.com, Made-To-Order Shirts > jhilburn.com, Jumbo Waterproof Liner > sephora.com, Liquid Eye Liner > sephora.com, Perfecting Translucent Illuminator > target.com, Sateen Sheets > dwellstudio.com, Silk Goddess Gown > shopbop.com, Grecian Illusion Gown > shopbop.com, Lace-Trimmed Silk-Chiffon Gown > net-a-porter.com, Diamond X Bracelet > barneys.com, Hard Candy Sticks > jcpenney.com, Breton Matelasse Gown > net-a-porter.com, Gold Glitter Evening Sandals > jimmychoo.com, Monogrammed Soaps > mulberrymoongifts.com, Clover Gown > jcrew.com, Taper Candles > etsy.com, Fiskars Paper Edgers > amazon.com, Embellished Dal Sandals > zappos.com, Embroidered Goa Clutch > oscardelarenta.com, Origin's Ten Minute Mask > origins.com, Black Elastics > target.com, L'Oreal Elnett Satin Hairspray, Extra Strong Hold > drugstore.com, Aveeno Foaming Cleanser > drugstore.com, Boots No7 Beautiful Skin Cleansing Balm > target.com, Louisa Silk Chiffon Bridesmaid Dress > jcrew.com, Taryn Silk Chiffon Bridesmaid Dress > jcrew.com, Arabelle Silk Chiffon Bridesmaid Dress > jcrew.com, Lucienne Silk Chiffon Bridesmaid Dress > jcrew.com, Ludlow Tuxedo Jacket > jcrew.com, Tinted Moisturizer > lauramercier.com, One Sweep Blush > lorealparisusa.com, Ultimate Suede Lipstick > revlon.com, Argan Rose Cream Buff > clarisea.com, Zoe Cushion Cut Diamond Ring > barneys.com, Curl Defining Cream > loveamika.com, Narrow Stripe Suit > barneys.com, Embroidered Sateen Sheet Set > craneandcanopy.com, Bundi Indigo Sheets > johnrobshaw.com, Nicole Miller Lindsay Gown > nicolemiller.com, Serenity Pillowcase > yvesdelorme.com, Natori Solid Towels > bloomingdales.com, New York Mille Fleurs Sheet Set > dporthault.com, Square Glassine Envelopes > paper-source.com, Gold Flatware > westelm.com, Guirlande de Lierre Duvet > dporthault.com, Egyptian Cotton Flat Sheet > matouk.com, Bijoux Table Linens > neimanmarcus.com, Brushed-Twill Sheet Set > macys.com, Ivory Classic Linen Napkin > potterybarn.com, Blue Smoke Classic Linen Napkin > potterybarn.com, Pleated Silk Chiffon Dress > catherinedeane.com, Tulle Overlay Dress > jennyyoo.com, Silk Georgette Mermaid Gown > peterlangner.it, Fit-to-Flare Gown > christosbridal.com, Lace-Appliqué Mermaid Gown > verawang.com, Embroidered Organza Ball Gown > rosaclara.es, Satin Picot Ribbon > hymanhendler.com, Penhaligon's English Fern > beautyhabit.com, Un Jardin Sur le Toit Fragrance > hermes.com, Heeley Figuier Eau de Parfum > aedes.com, Green l'eau de parfum > aedes.com, Thé Vert & Bigarade Eau de Toilette > loccitane.com, 'Eau Parfumée au thé Vert' Eau de Cologne Spray > nordstrom.com, Slim Skirt Dress > sophiakokosalaki.com, Silver Leaf Wedding Cake > amazon.com, Amazingreen Eau de Parfum > doverstreetmarket.com, Loose Leaf Tea > davidstea.com, Coated Chocolate Flavored Candy > jcpenney.com, Gumballs > jcpenney.com, Python Clutch Bag > neimanmarcus.com
---
---