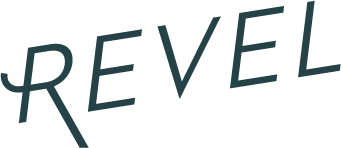 A Sorbet-Hued Affair
The gorgeous pastel tones from the Spring 2012 runways have hit the stores, and though the weather hasn't quite caught up, New York City is already awash in shades of peach, pink, mint and the mellowest of yellow. 
I'm completely in love with the trend, and while I am already fast at work styling a pastel-inspired engagement session for a Merci New York client, I can't help but wonder what would happen if we took this palette a step further… and curated an entire wedding around the sorbet-chic tones of the Louis Vuitton Spring 2012 runway?
Luckily, that's why Revel is so wonderful… Not only can we imagine the fabulously fun outcome (below) but we can indulgently shop  these finds right here. Happy shopping!

Need a little help styling your wedding wardrobe? Visit me at Merci New York. You can also get more pastel eye candy with Spring 2012 runway inspirations from the Merci New York blog here.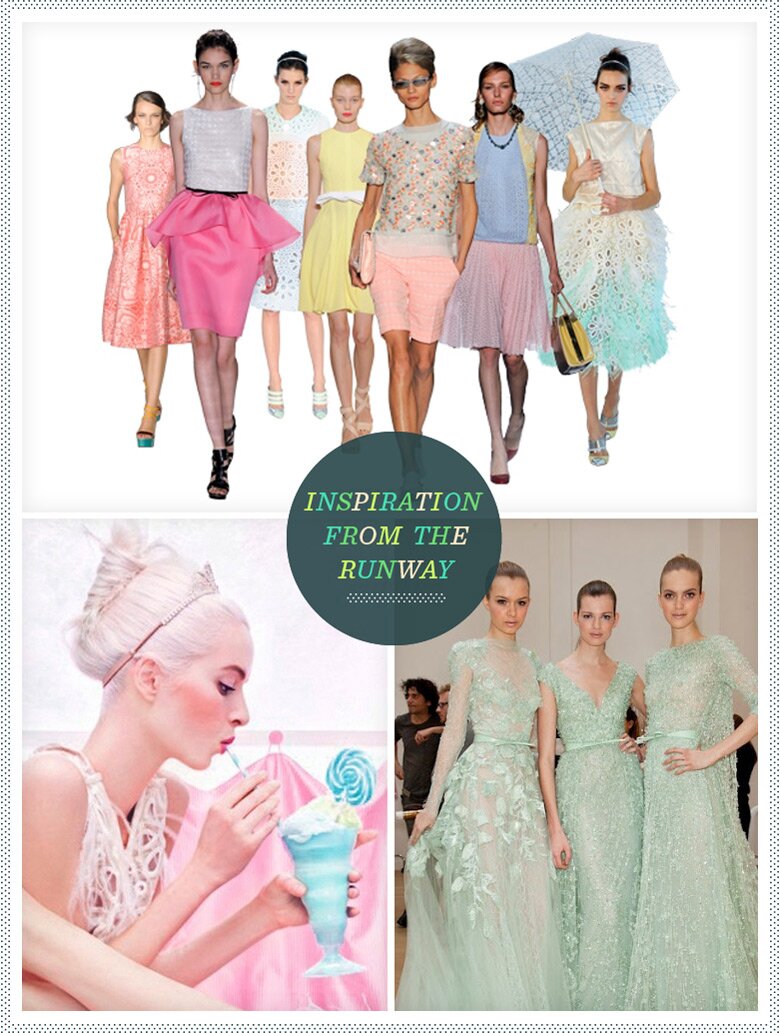 It's all shop-able. Click on any image for details on prices and sourcing. 
Can't get enough of this sorbet-hued pastel wedding? Check out REVEL's Mint+Peach and Chartreuse+Mint boards for more inspiration!
Tea Party Tablescape
The feminine flowers and pastel shades of this tablescape are offset by modern chairs and a farmhouse table; both which add an unexpected edge. These adorable pastel espresso cups and saucers will help you create a similar tea party feel! Image: Dust Jacket Attic
$40 for a set of 4
Mint Geometric Cake
I love how this cake captures the look perfectly, down to the mid-century geometric details and glam, center "jewel" that almost resembles a lady-like brooch. Image: Erica O'Brien Cake Design
Vintage Parasols
Stylist's tip: Pretty parasols, (like these sorbet toned vintage lace ones from Layla Grace) are perfect wedding props. Luckily, they are also a literal translation of the Louis Vuitton Spring 2012 runway! For an outdoor wedding, have a tin of parasols ready pre-ceremony to help shade the sun, and use them as a fun photobooth prop as well!
$67
Richard James Striped Silk Tie
A signature twist on the traditional striped tie, this sorbet color-blocked style from Richard James is ideal for adding punch to tailored looks.
$115
Summer Love Invitations
What could be sweeter than a popsicle in summer? Bring a smile to your guests faces with this modern design, perfect for your spring or summer celebration!
$2.34 each for 100
Sorbet
In addition to being a refreshing intermezzo, sorbet is the perfect dessert for this oh-so-pretty wedding theme! Image & recipe: Mowielicious
Vintage-Inspired Champagne Flutes
I love these bud-hued Bohemian-glass champagne flutes from BHLDN to really drive home the 50s-esque vibe! Image: Style Me Pretty
$68 for a pair
Romantic Pastel Bouquet
This romantic bouquet of dahlias, English roses, gardenia, and peonies accented with dusty miller is the perfect finishing touch to your ensemble. Image: Bouquet Bouquet
Wedding Dress
This elegant chiffon and organza gown from Jasmine Bridal features detachable ruffle straps and a court train. Image: Jasmine Bridal
Lilac Clutch
Love the lilac shade of this cute (yet edgy) ASOS clutch...Perfect as a bridesmaid gift (or, "gifting" yourself)!
$26.86
Lemon Meringue Dress
Appliquéd flowers adorn Hitherto's tart and frothy lace frock from BHLDN. Cut-out detailing at the back and a sheer upper bodice complete this joyful look for your engagement party or for your spring bridesmaids.
$550
Chalcedony Stone Earrings
A large, light green chalcedony stone is encased in textured gold, updated with gorgeous etched feather detailing and an overlaid tiger's eye marquise. These radiant jewels from Kendra Scott dazzle!
$75
DIY Pinwheel Escort Cards
Have a non-traditional send-off by giving your guests these pretty pastel pinwheels at their seat– perfect for a photo worthy exit! Create your own with these pretty die cut papers. Image & direction: Bumpsmitten.com
$21.50
Kensington Slim-Fit Wool Suite
Keep your groom looking super-sharp with this stunning three-piece suit from Paul Smith London. The skinny silhouette keeps it modern (and works so well with the sorbet striped tie)!
$1495
Miu Miu Glitter Heels
Perfectly girly and wonderfully celebratory, these Miu Miu glitter sandals are the icing for any frothy, vintage wedding look.
$990
Colorful Beverages
Pastel-colored drinks such as Jones Soda can be used to create a colorful soda bar or be used as favors placed at guests' seats. Image: Style Me Pretty
$18.99 for a 12 pack
Tocca Mini-Perfume Gift Trays
Great bridesmaids gifts that pair the pastel theme with top-selling Tocca fragrances!
$45
Merci New York Runway Inspirations
For more of Jackie's runway inspirations, check out the Merci New York blog!
---


---
Tea Party Tablescape > laylagrayce.com, Mint Geometric Cake > ericaobrien.com, Vintage Parasols > lunabazaar.com, Richard James Striped Silk Tie > mrporter.com, Summer Love Invitations > minted.com, Sorbet > mowielicious.com, Vintage-Inspired Champagne Flutes > bhldn.com, Romantic Pastel Bouquet > bouquet-bouquet.com, Wedding Dress > jasminebridal.com, Lilac Clutch > asos.com, Lemon Meringue Dress > bhldn.com, Chalcedony Stone Earrings > laylagrayce.com, DIY Pinwheel Escort Cards > bumpsmitten.com, Kensington Slim-Fit Wool Suite > mrporter.com, Miu Miu Glitter Heels > neimanmarcus.com, Colorful Beverages > jonessoda.com, Tocca Mini-Perfume Gift Trays > beauty.com, Merci New York Runway Inspirations > blogspot.com
---
---