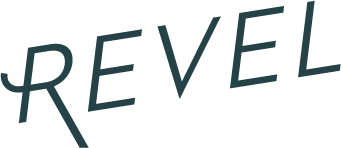 Expert Q&A: Bridal Jewelry Basics with Gioielli
The right piece of jewelry takes an outfit from basic to blowout. It's no different for your wedding, but the rules aren't quite the same–  white dress,  wedding color palette, etc..  How to work jewelry to your advantage without looking like an overdressed Christmas tree?

Here to share some tips, jewelry designer Nikki Baker. We love how her line, Gioielli (the Italian word for jewelry!), combines semi-precious stones in sorbet colors with high-end cuts like cushion and asscher. It's the modern classic look to a T.  Check out her advice on how to adorn yourself on your big day, and come back next week for details on our exclusive Gioielli giveaway!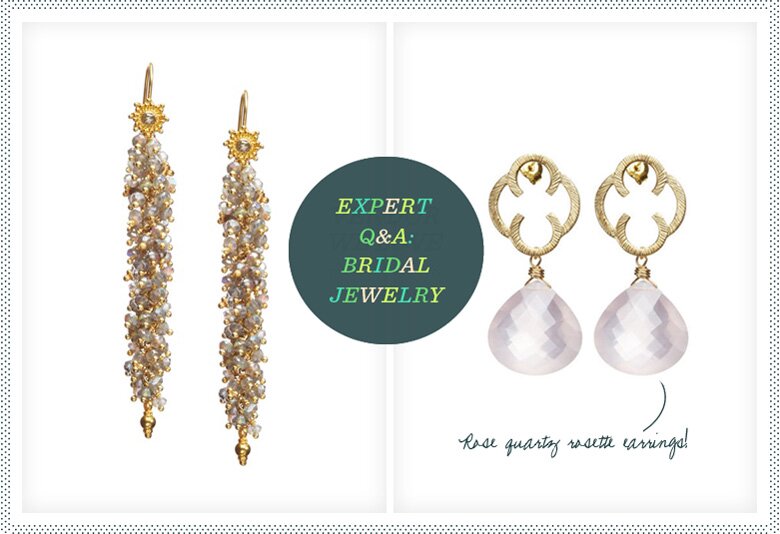 Question 1:  How should a woman think about jewelry in the context of a wedding? 

Wedding jewelry is a very personal choice- a bride should wear pieces that are meaningful to her, pieces that have a context in her life. This could be a family heirloom, a gift she has given to herself, or a recent present from a loved one. I especially love when brides wear jewelry that has a personal story attached to it. Also, the engagement ring & wedding bands have pride of place, so all other jewelry should complement, but not overwhelm…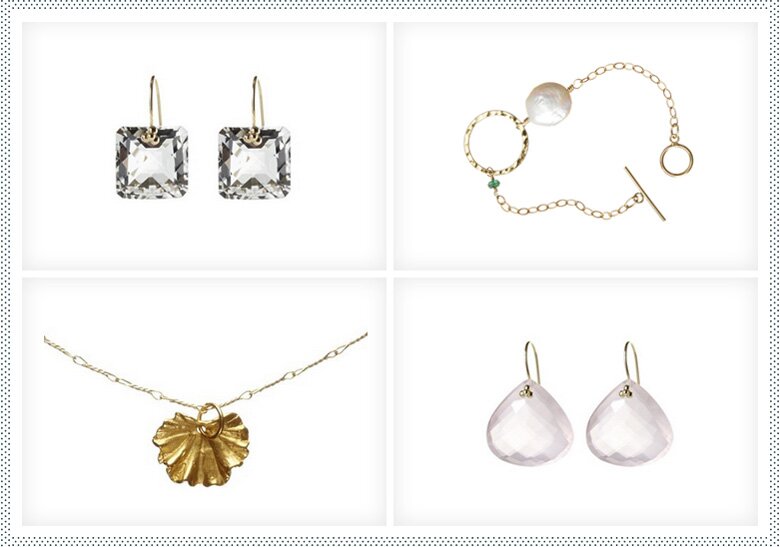 Question 2:  For the bride, what pieces are essentials and which ones are optional?  Are earrings and necklaces too much together?

No hard and fast rules!  Generally, one statement piece is a lovely choice to create a focal point. Though it may be tempting to empty the vault on wedding day, less is generally more when it comes to statement jewelry.  Complement a statement necklace with a pair of simple, elegant diamond studs.  Enhance a simple dress silhouette with a dramatic, textured necklace. Or choose between necklace and earrings, and add a delicate bracelet or jewel encrusted watch.   As long as the bride feels comfortable with her look, the rest will be magical!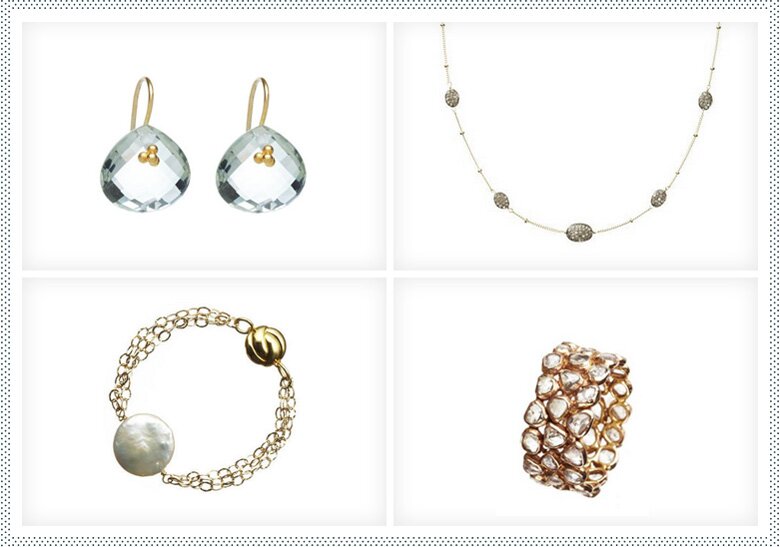 Question 3:  What about jewelry for other wedding events, the rehearsal dinner, showers, the reception, any suggestions?  

Have fun accessorizing for these events! Parties leading up to the wedding offer the bride a chance to show off her beautiful jewelry and her fabulous personal style-  here, she can splash out and be whimsical and colorful with her jewelry choices.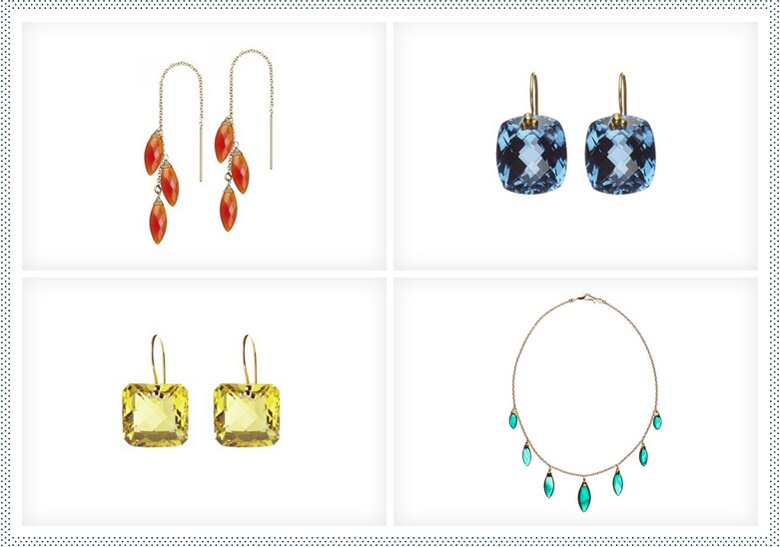 Question 4:  It's a tradition for some to give bridesmaids a gift of jewelry.  Any new trends?

Brides are increasingly interested in commissioning bespoke jewelry for their bridesmaids (and mother of bride), gifting each girl with a uniquely designed piece within a color palette that complements the wedding colors. This gift gives the bride a chance to express her own creativity, while creating an elegant and pulled-together look for the wedding day, resulting in a treasured gift each girl can keep and enjoy for years to come.

In fact, Gioielli was born out of my own desire to create unique pieces for each of my 6 bridesmaids- we had lavender Vera Wang bridesmaid dresses and green & white flowers, so the each girl received a different piece of handmade jewelry crafted with iolite briolettes, tiny freshwater pearls, milky chalcedony and aquamarine - the suite was designed with each girl's unique taste and lifestyle in mind. At Gioielli, we have so much fun working with brides on this very personal, creative and meaningful project for the most special women in their lives..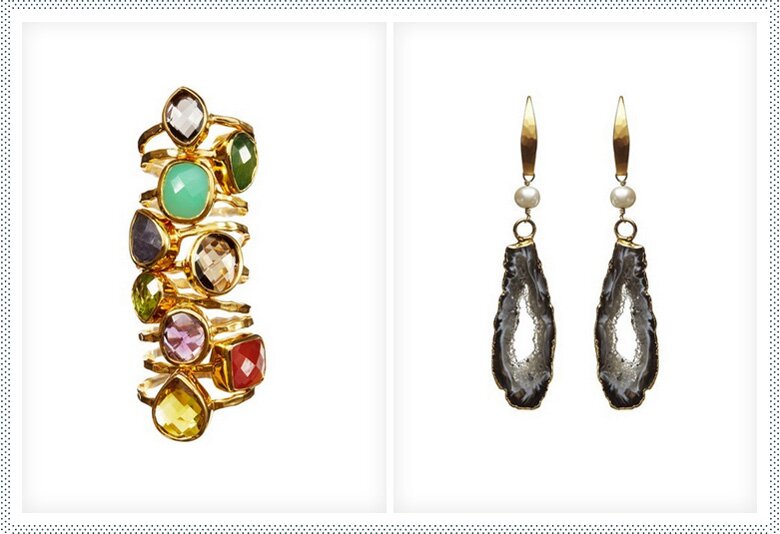 Question 5:  Any unsual ways you've seen jewelry worn?  Any favorites?

I love to see men proudly wearing their wedding rings, or rocking statement necklaces or bracelets with edgy designs or even a pair of sharp cufflinks in a French cuff shirt.  It takes a certain kind of confidence for a man to accessorize, and oftentimes, they have excellent taste!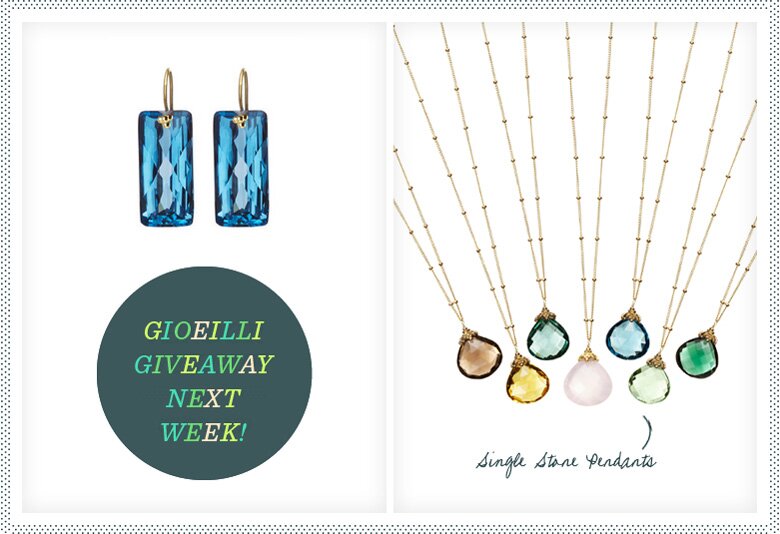 It's all Shop-able.  Click on any image above for details on prices and sourcing.  
Impressed? See Nikki's full collection at
Gioeilli
.  Don't forget to check in next week for our Gioielli giveaway. Won't remember? Subscribe to be notified. 
For REVEL jewelry picks, see
Top Bridal Necklaces
and
Top Bridal Earrings
, and our Pinterest
Jewelry
board.
White Quartz Asscher Drop Earring
Asscher cut white topaz, approximately 26 carats per pair, on gold vermeil Balinese berry earwire.
$195
Gold Geranium Leaf Necklace
24k gold vermeil Geranium leaf necklace on 24k gold vermeil chain (15.5"), with 2" extender chain.
$110
Goddess Emerald Bracelet
Coin pearl & emerald bracelet with 24k gold hammered vermeil circle. 14k gold-filled chain (7"), 14k gold-filled toggle clasp. Also available in ruby or sapphire.
$180
Rose Quartz Heart Drop Earrings
Rose quartz heart shaped briolettes, approximately 45 carats per pair. On gold vermeil Balinese berry earwire.
$195
Rose Quartz Rosette Earrings
Earrings that are simple yet elegant.  Perfect for a bride that shines with romance! Large Rose Quartz Briolette, Vermeil abstract rose post earrings. Sterling silver earpost, 1.5" drop.
$210
Diamond and Celestial Labradorite Earrings
Words like ethereal and enchanting come to mind when the slinky movement of these earrings trigger dazzling sparkles of reflected light in every direction. Feature 18k gold & diamond earwires with cascading mystic labradorite rondelles. A truly spectacular addition to the eclectic and discerning jewelry box. 2.25-2.5" drop.
$2400
Green Amethyst Heart Earrings
Can't be green with envy when you're wearing these lovely earrings! These will sparkle on your special day.  Large green amethyst briolette.  24k gold vermeil balinese berry earwire or 14k gold berry earwire.
$195.00
Diamond Bean Station Necklace
This Luxurious necklace dazzles like the stars in the sky with simply placed pave diamond beads and gold beads.  14k gold beaded chain.  Approximately 20".  Natural. grey, hand cut diamonds.
$1,850.00
Large Coin Pearl Love Knot Bracelet
This subtle bracelet from Gioielli is perfect for the effortless chic bride.  7" made with a 24k gold love knot clasp and a 14k gold filled hamered chain. 
$180.00
3 Tier Rose Gold & Rose Cut Diamond Ring
This gorgeous 14 k rose gold ring features approximately 4.85 carats of rose cut diamonds. Talk about a show stopper!
$4,400
Tangerine Quartz Waterfall Earstrings
Add a splash of color to your special day with these dazzling earstrings.  Featuring tangerine quartz marquise briolettes on 14k gold filled earstrings.  Length is adjustable for maximum versatility.
$150.00
London Blue Topaz Cushion Drop Earring
If you're looking for a pop of color in your look, then these are the earrings for you!  Beautiful blue drop earrings will catch everyone's eye.  Approximately 32 carats per pair.
$195.00
Lemon Quartz Asscher Drop Earring
Love these stunning lemon quartz earrings! They're bright and dainty enough to steal the show.  With gold vermeil Balinese berry earwire. Approximately 26 carats per pair.
$195.00
Adventurine Grand Bazaar Necklace
Make a bold statement with Gioielle's bright necklace.  With a glow-like quality, you'll light up anywhere you go!  Adventurine briolettes painted with 25k gold.  14k gold-filled square chain (18" long).  24k vermeil hook clasp.
$237.00
Stackable Rings
Chic for layering or stand-alone elegance...you decide your own colorful combos!  The beauty of these rings lies in the natural inclusions, making no two stones exactly alike.  18k gold vermeil rings.
$85.00
Druzy & Pearl Earrings
These unique earrings cater to bold brides with their combination of the organic and the classicaly beautiful. Features a black & white agate geode with druzy center painted with 24k gold, fresh water pearls and hammered 24k Balinese vermeil earwires with a satin finish. 2.25-2.5" drop.  
$250.00
Baguette Cut London Blue Topaz
Glimmer with these alluringly blue earrings, and you'll be sure to shine with elegance!  14k gold berry earwire.  Approximately 45 carats per pair.
$250.00
Single Stone Necklace
A perfectly simple and elegant statement piece for your a day you'll never forget!  Heart shaped briolette available in various colors.  Approximately 12 carats with a gold-filled beaded chain.  Chain measures 16".
$175.00
---


---
White Quartz Asscher Drop Earring > nikkibaker.com, Gold Geranium Leaf Necklace > nikkibaker.com, Goddess Emerald Bracelet > nikkibaker.com, Rose Quartz Heart Drop Earrings > nikkibaker.com, Rose Quartz Rosette Earrings > nikkibaker.com, Diamond and Celestial Labradorite Earrings > nikkibaker.com, Green Amethyst Heart Earrings > nikkibaker.com, Diamond Bean Station Necklace > nikkibaker.com, Large Coin Pearl Love Knot Bracelet > nikkibaker.com, 3 Tier Rose Gold & Rose Cut Diamond Ring > nikkibaker.com, Tangerine Quartz Waterfall Earstrings > nikkibaker.com, London Blue Topaz Cushion Drop Earring > nikkibaker.com, Lemon Quartz Asscher Drop Earring > nikkibaker.com, Adventurine Grand Bazaar Necklace > nikkibaker.com, Stackable Rings > nikkibaker.com, Druzy & Pearl Earrings > nikkibaker.com, Baguette Cut London Blue Topaz > nikkibaker.com, Single Stone Necklace > nikkibaker.com
---
---