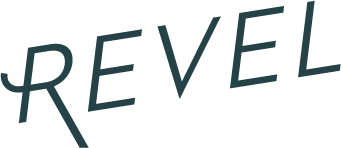 Fall 2013 Bridal Market: Trends and Goodies
I'm sure you've already gorged on photos of all the big name designers' new bridal gowns debuted at Fall 2013 Bridal Market. Ready for a little something different?  Here's a little trend report with REVEL's favorite off-the-beaten-path designers, and other favorite finds from market.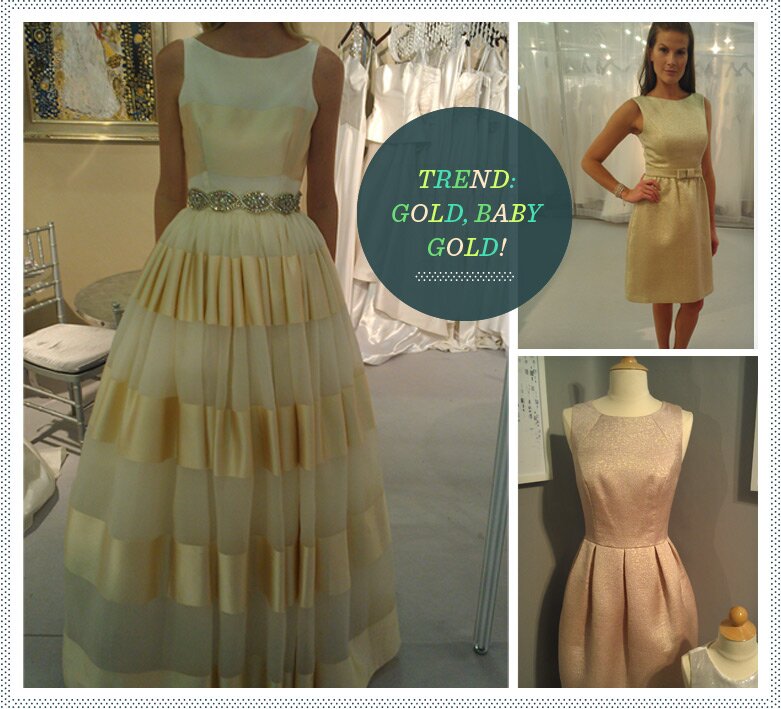 Did anyone notice all the gorgeous gold? Between this gold-striped gown from Jean-Ralph Thurin, gold bridesmaid dresses, and a pink brocade maid's dress with gold metallic thread (both 57Grand), it's a gold mine out there.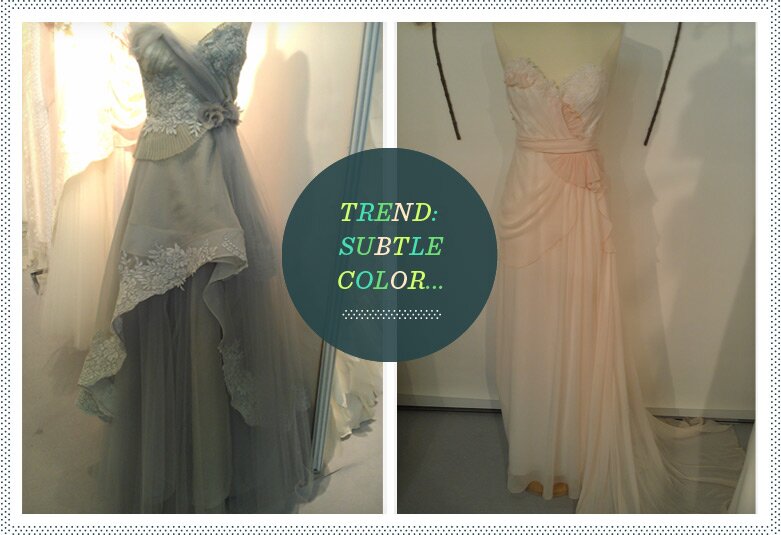 We've seen color on the bridal runway for a few seasons now, but this subtle use of color from Claire Lafaye is one of the prettiest. It's subtle (not like Vera Wang's pink) yet ethereal, preserving a bridal feel.  (I'm also partial to her because I met the designer and her mother at market - such a sweet pair!)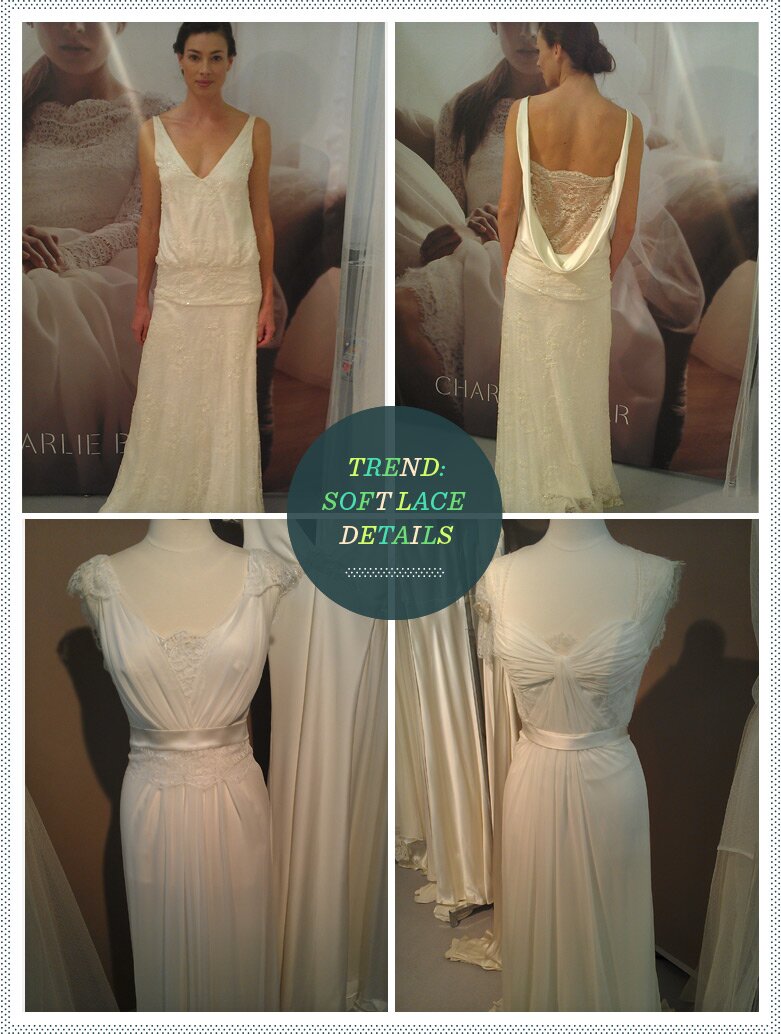 Lace has also been making the rounds, but this season it's come into its own. The lace cowl back of this Charlie Brear dress is jawdropping, and I love the softness of the lace in the Rose & Delilah gowns, not to mention the creative ways it's worked into the bodice.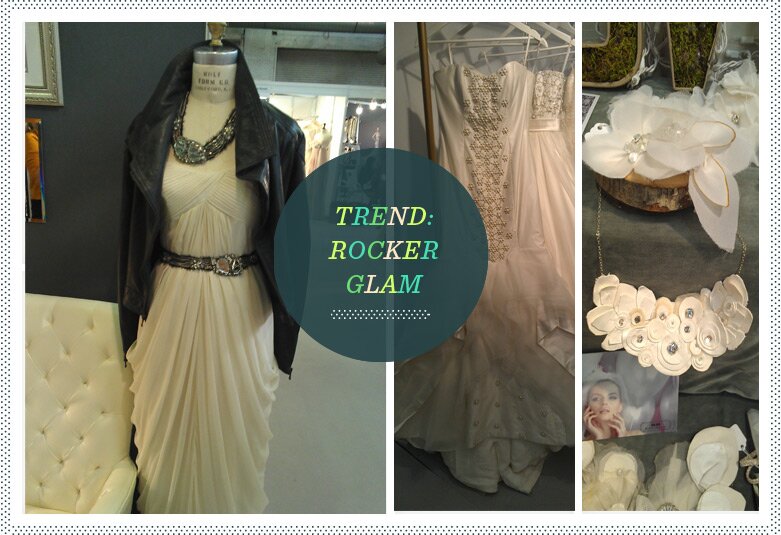 I was pumped to see rockstar glam details - designers are finally catching on to brides who want to break the mold and express their personality.  Check out accessories with leather details, in white, black and shades in between from Desla and Bloom Bazaar, and dresses with grommet pearl details like this one from Magdalena Gmyr.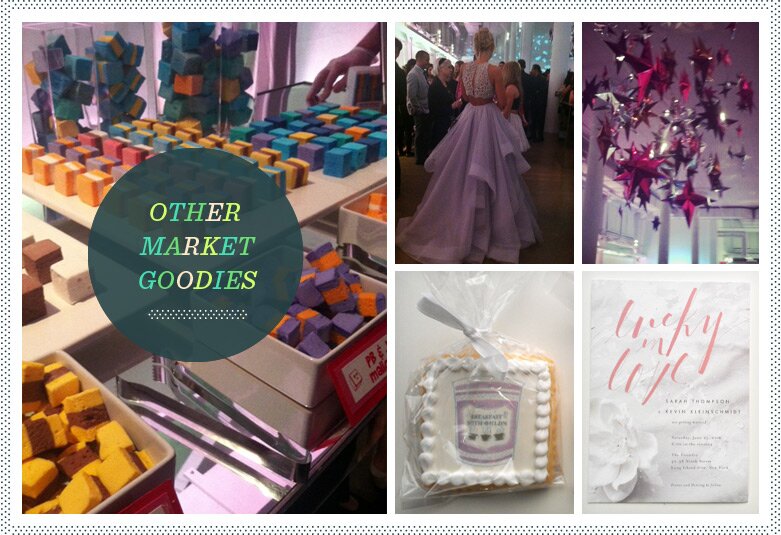 Last but not least, other goodies from bridal market, outside of the fashion department! We loved having breakfast at the BHLDN popup, where we saw some gorgeous invitations from the Wedding Paper Divas/BHLDN line, and munched on too cute favor cookies from Whipped Bakeshop.  And of course, the Martha Stewart Weddings party never disappoints - check out their paper star centerpiece (dare to DIY?) and the too-cute marshmallow dessert table from Mitchmallows.  
That's all for now! For more REVEL inspiration, follow us on or sign up for our weekly inspiration!
Jean-Ralph Turin Gown
Gold and cream striped gown by Jean-Ralph Thurin.
Gold Brocade Maid's Dress
Cocktail length sleeveless Park Avenue brocade dress with bateau neckline and v-back by 57Grand. Matching bow belt at natural waist. Pockets at side seams skirt.
$240
Pink/Gold Brocade Maid's Dress
Cocktail length sleeveless Park Avenue brocade dress with seamed bodice and inverted pleats at skirt, by 57Grand. Pockets at side seams skirt.
$240
Gowns by Claire LaFaye
Visit Claire LaFaye's site for more information on these gorgeous customizable gowns (also available on etsy). 
Cowl Back Lace Dress
Catroux beaded lace dress by Charlie Brear
Lace & Chiffon Gowns
Gorgeous gowns by Rose & Delilah, lovingly handmade in the USA. 
Damask and Pearl Gown
A marvel of design and skill, this Magdalena Gmyr Italian Silk Damask strapless bodice is patterned with hand-tied silk satin knots and fresh water pearls each encircled with sterling silver rope-wreaths that are rhodium plated to prevent tarnishing. The exaggerated drop waist bodice falls into a sundry of Silk Organza and Silk Satin textured layers.  Fresh Water Pearl can be substituted for Swarovski Crystal.
Rhinestone and Leather Necklace/Sash
DESLA™ pieces are blessed by a Reiki master to ensure that positivity, luck and love remain intact throughout the years. It's an added, spiritual charm that brides are more than happy to embrace as their wedding day comes and goes.
Leather and Rhinestone Necklace
Accessories by Bloom Bazaar are designed by Kim Lai, an FIT graduate whose collections have been carried by Bergdorf Goodman and featured in BRIDES magazine. 
Colored Marshmallow Dessert Table
Use colorful marshmallows for a fun and pop-y dessert station or make colorful favors with these fun confections. 
Jeweled Bodice Gown
This jeweled bodice ballgown is the perfect transition to night for your big day. Who says you've got to go with a Little White Dress for your reception? Go big! 
Cookie Favors
We got these at the BHLDN popup breakfast, but make them your favor for any event, from showers to the big day! Customizable from Whipped Bakeshop and budget friendly. 
BHLDN / Wedding Paper Divas Invitations
Hot off the presses!  BHLDN and Weddingpaper Divas are launching a new line of wedding stationary together and the designs are over the top gorgeous.  
Paper Star Centerpiece
Loved this paper star centerpiece at the Oct 2013 Martha Stewart Weddings party! Visit the Martha Stewart Weddings site for DIY inspiration, and shop the Summer/Fall 2013 issues of Martha Stewart Weddings exclusively on REVEL!
---


---
Jean-Ralph Turin Gown > jeanralphthurin.com, Gold Brocade Maid's Dress > dessy.com, Pink/Gold Brocade Maid's Dress > dessy.com, Gowns by Claire LaFaye > clairelafaye.com, Cowl Back Lace Dress > charliebrear.com, Lace & Chiffon Gowns > roseanddelilah.com, Damask and Pearl Gown > magdalenagmyr.com, Rhinestone and Leather Necklace/Sash > deslacouture.com, Leather and Rhinestone Necklace > bloombazaar.com, Colored Marshmallow Dessert Table > mitchmallows.com, Jeweled Bodice Gown > jlmcouture.com, Cookie Favors > whippedbakeshop.com, BHLDN / Wedding Paper Divas Invitations > weddingpaperdivas.com, Paper Star Centerpiece > marthastewartweddings.com
---
---