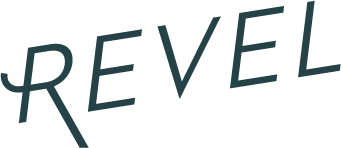 Home to Wedding: Obsessive Imagist
Today's post is by our newfound friend Katie of The Obsessive Imagist. Katie is a New York City gal with a passion for art, vintage stamps, baking, and beautiful design. Today we peek into her apartment, and her wedding plans for our Home to Wedding series! 
Hello, Revelers! My fiancé and I have lived together in our New York City apartment for two years now. When we moved in together, I was nervous about how our slightly different tastes would blend. His style is Scandinavian cool with a touch of classic New England; mine is modern and colorful with a bit of vintage thrown in. We have made this apartment our home by decorating it with things that represent us: bookshelves laden with our favorite novels and books, walls hung with family snapshots, and tables dressed up with our numerous collections.
Since we are currently still planning our wedding—scheduled for this fall—I am constantly trying to think of fun, inventive ways to incorporate our personalities and interests into every aspect of our big day. Here are a some of my favorite ideas and products. Be inspired! 
Love this?
Michelle
dreamed up the whole Home to Wedding series. See her first post on
Home to Wedding: Michelle + Adam
. Or for a bright and pop-y wedding, check out
Shop the Look: Rainbow Love
.  
Home to Wedding: Obsessive Imagist
Love Katie's style? Check out her blog 'The Obsessive Imagist' to see more of her inspirations and findings!
Vintage Stamps
Vintage stamps make your wedding suite look both most polished and more interesting. For our invites we collected stamps that fit our color scheme—reds, oranges, and light grey—and represent our interests—art, nature, history, etc. We even found a stamp for Boston, where we will have our wedding!
$8.50
Red Polka Dot Straws
I love anything with polka dots! Though we have tried to limit their presence in our apartment, these would make the perfect kick to any drink your bartender can whip up. Image: Etsy
$7.98 for 25
DIY Red Ball Garland
This DIY decor is simple yet visually stunning. Crafty garland is both easy on the eyes and the budget! Image and instruction: Martha Stewart Weddings
DIY Marquee Lights
We really wanted to have vintage marquee lights to decorate our reception venue, but they were so expensive that I went hunting for a DIY version. This 'how to' turned out to be the perfect solution! Image and instructions: Design Sponge
Tablescape Inspiration
Keep arrangements eclectic and colorful! As long as you use flowers with the same the intensity and temperature (here: vibrant and warm), you can mix in one accent to tie it all together, like the blue glass vases. Image: Southern Weddings
Striped Peep-Toe Pumps
If there is one similarity amongst everything in our apartment it is bright, bold pattern! Add some sass and sophistication with these fabulous J. Crew pumps. 
$258
Geronimo Balloons
I love balloons! If we could fill our apartment with balloons all the time we would. So to make the balloons extra special (isn't this the most special occasion?), try this jumbo balloon decked out with pretty ribbons and garlands.
Custom Viewmaster Reels
This favorite childhood toy can now be customized! We still have ours from when we were kids and can't wait to incorporate these into our wedding. They would be wonderful gifts for bridesmaids, new in-laws, or (if you are feeling generous) favors. 
$25 per set
Vintage Record Wedding Invitation
Creative, unique and customizable, this invitation will definitely make an impact on your guests. It's so pretty that we would happily frame it and hang it on our wall.
$6.50 each
Satin Peplum Dress
Perfect for a modern, preppy girl like myself, this clean-lined satin dress from 57Grand would be great for a rehearsal dinner or casual wedding. Sleek and strapless, with a long peplum. In satin, with a boned bodice and back zip.
$495
Vintage Globe Bank
Who says you have to have flowers for centerpieces? This globe bank would be the perfect vintage touch and a great start to a globe collection (we have seven!) after the wedding. On the table ask guests to write you notes and stick them in the bank; you can open the bank and read them on one of your anniversaries.
$24.00
States United Print Poster
Just like the poster above our bed, but in a fiery red. A great, unexpected way to incorporate color and cartography (our favorites) into your wedding. Hang it up or have guests write on it and turn it into a guestbook keepsake.
$75
Say
I have an extensive collection of eccentric, unusual jewelry. This necklace by Kate Spade would be a fabulous shower gift and a staple for the honeymoon and anniversaries to come.
$78.00
Bouquet Inspiration
I love this bright and festive bouquet made of a beautiful mix of sweet peas and ranunculus! Image: Bride's Cafe
---


---
Home to Wedding: Obsessive Imagist > theobsessiveimagist.com, Vintage Stamps > usmintsheets.com, Red Polka Dot Straws > koyalwholesale.com, DIY Red Ball Garland > marthastewartweddings.com, DIY Marquee Lights > designsponge.com, Tablescape Inspiration > iloveswmag.com, Striped Peep-Toe Pumps > jcrew.com, Geronimo Balloons > geronimoballoons.com, Custom Viewmaster Reels > image3d.com, Vintage Record Wedding Invitation > etsy.com, Satin Peplum Dress > 57grand.com, Vintage Globe Bank > etsy.com, States United Print Poster > etsy.com, Say > nordstrom.com, Bouquet Inspiration > thebridescafe.com
---
---