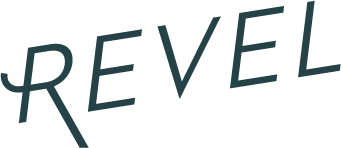 Revel Picks: Dramatic Invitations
Classic, dark, and modern - these top ten Revel Picks for dramatic invitations are perfect for a city wedding. Each invitation suite is characterised by a deep, saturated background in either navy, gray, or black. On each, the clean white text and pop of colors make for a dramatic invitation that will really grab the attention of your guests.
For more wedding invitation ideas, check out REVEL Picks: Fall Invites or follow our REVEL Invitations board on Pinterest!
Ampersand Invitations
The oversized ampersand on these modern invitations from Wedding Paper Divas is a great motif that can be carried through to your wedding decor. Available in five colors. Shown in Lapis.
$1.79 each for 100
Modern Wedding Invitations
Inspired by mid-century modern design, these wedding invitations from Minted have a dramatic black ground with pops of orange accents. Available in three colors. Shown in Navy.
$2.34 each for 100
Dark Square Invitations
The square shape and the modern fonts used on this classic invitation from Minted compliment the dark navy ground. Available in three colors. Shown in Navy Blue.
$2.04 each for 100
Elegant Navy Wedding Invitations
Perfect for any black tie event, these dark navy wedding invitations feature modern white text and a pop of green. Available in three colors. Shown in Night Sky.
$2.34 each for 100
Round Corner Wedding Invitations
Navy, teal, and seafoam all compliment each other on these modern, dramatic, and whimsical wedding invitations. The rounded corners are a unique feature! Available on Wedding Paper Divas. Also comes in brown, black, and magenta.
100 for $179
Modern Spotlight Wedding Invitations
Your names are the spotlight on these dramatic invitations with a black ground and white and light blue text. From Look Love Send.
$1.32 each for 100
Monogram Wedding Invitations
Your initials are the focal point of these navy blue invitations.  Sold by Wedding Paper Divas, they are also available with an amethyst or slate gray background.
100 for $204
Diamond Sky Invitations
White confetti decorates the top of these dark black invitations from Wedding Paper Divas. Dramatic and formal enough for a fancy evening, yet still fun and modern. Available in four colors. Shown in Black.
$1.79 each for 100
Chalkboard Invitations
Hand drawn elements and a textured, chalkboard-like, background are two details that make these invitations from Minted unique and fun. Available in three colors. Shown in Charcoal.
$2.34 each for 100
Classic Wedding Invitations
Clean, white text pops off of a simple, gray background on these modern wedding invitations from Minted. Available in thre colors. Shown in Dark Grey.
$2.34 each for 100
---


---
---
---