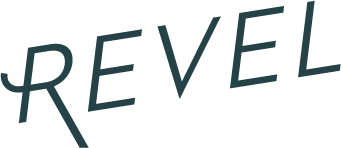 REVEL's Newlywed Essentials
Ladies, believe it or not, being engaged to the perfect man, and planning an amazing Big Day is just stop one in the incredible story of your life as the Missus.  After you've tossed your bouquet and danced your last dance, you'll have a lovely life together, and there are plenty of toys to make that life magical. Enter... the registry.

There are a lot of options, but we're partial to the Williams-Sonoma registry. Of course we used it for our weddings, and it was a hit for both our husbands!  We've picked out a few of REVEL's favorites to get you started (plus we've just heard of a $5,000 gift card giveaway, yes, please!)  Whether you're a baker, a gourmet chef, or an entertainer extraordinaire, we've got you covered.  
Every baker needs the signature red KitchenAid stand mixer (don't forget the awesome attachments - pasta maker?  yes!) Williams-Sonoma is my first stop for everything from basics like the best baking pans on the market, to monogrammed pedestals for showing off my homemade goodies.  Oh, and wow your honey with delicious pies for every season in their artisan ruffled pie dish!
Planning to take the cooking world by storm?  Skip the discount stores and hit Williams-Sonoma for basics like a great knife block set and stainless steel cookware.  Basics aren't the place to scrimp- water takes longer to boil in cheaper pots (the metal doesn't conduct heat as well) and you're more likely to cut yourself with a dull knife (who knew?).  Oh, and make sure you don't forget the fun items like his and hers aprons and the newlywed cookbook Two in the Kitchen, where you'll find some tips from lil' old me (Saukok) and my husband Jamie (he cooks, I clean!) 
You know, you don't have to be a cook or a baker to host amazing parties in your home.  It's going to taste great, but it's also got to look great!  Make sure you have the basic entertaining tools, like great stemware, cocktail sets, and then add personal touches like chalkboard signs.
We know, we wish we could just wake up in a kitchen stocked with all these goodies too.  Head on over to Williams-Sonoma - their great personalized service (we know some amazing foodies who work their floor) and a 10% unlimited completion discount are just two perks on a long list of other benefits, including the chance to win a $5,000 Williams-Sonoma Gift Card to purchase your dream registry (!) 
To enter to win the Williams-Sonoma $5,000 gift card to purchase your dream registry (along with chances at other great weekly prizes like the Wüsthof Precision 6-Piece Block set similar to the one shown in this post), start your Williams-Sonoma registry.  And mail us some homemade goodies when it's all done up!  
Home Baked Comfort
This gorgeous new baking book contains beloved classics and contemporary treats, from passionate baker and food editor Kim Laidlaw and America's most revered bakeries and bloggers. Stunning, full-color photographs throughout bring it all to life. A mixture of nostalgia and fun, it is written for both experienced bakers and anyone who might be curious about baking. With more than 100 recipes for irresistible treats, you'll find it easy to share the fun of baking with friends and family. Hardcover, 224 pages.
$34.95
Maple Rolling Pin
This well-designed rolling pin from Williams-Sonoma lets you transform dough into a thin disk of pastry without stretching, tearing or overworking it.
$36
6 Piece Essential Bakeware Set
Successful baking relies as much on good tools as it does on techniques and ingredients. Williams-Sonoma's signature professional-quality pans are some of the best on the market.  They distribute heat evenly, and their Goldtouch nonstick coating is second to none. This special set includes all the essentials for everyday baking tasks. Set includes a 12-well muffin pan, a cookie sheet, a half-sheet pan, two 9" cake pans and a cooling rack.
$99.95
Kitchenaid Artisan Stand Mixer
A smaller version of commercial-size models, this versatile stand mixer is designed with enough power and capacity to prepare large batches of cake batter or cookie dough without compromising your kitchen counter space. Available in 20 colors. Shown in Red.
$349.95
Artisan Ruffled Pie Dish
The rustic charm of kitchen ceramics in an Emile Henry 1850s catalog provided the inspiration for the French company's Artisan series of bakeware. Each pie dish is shaped from Burgundian clay, which absorbs, distributes and retains heat evenly, so pies bake and brown to perfection. The dish's generous proportions and scalloped rim make it ideal for baking deep-dish fruit and savory pies that will be served at the table. Available in four colors. Shown in Nougat.
$45
10 Piece Glass Bowl Set
You can never have too many bowls for prepping or combining ingredients. This set includes a full range of sizes – ten in all – for holding everything from a few strands of saffron to all the ingredients for a cake. Perfectly simple in design, they're useful as serving pieces too.
$39
Monogrammed Small Covered Pedestal
This glass pedestal stand provides a grand display for all sorts of petite sweets, from cupcakes and cookies to pastries and chocolates. The domed lid keeps contents fresh, and your monogram adds a personal finishing touch. The elegant shape is designed for Williams-Sonoma by a leading American glassmaker. Choose single- or triple-initial monogram; the triple initials are hand cut with a precision stone wheel. Handwashing recommended. 7 1/2" diam., 9 1/4" high. Made in Mexico. A Williams-Sonoma exclusive.
$59
His + Hers Aprons
A necessity in any busy kitchen, this heavyweight apron is made of sturdy cotton twill. It's generously sized, with a double front pocket and a D-ring at the neck for easy adjustment, and distinguished with Williams-Sonoma's sewn-on logo. Machine-wash. Available in eight colors. 
$19.95
All-Clad Stainless Steel 10 Piece Set
Representing the best in American craftsmanship, All-Clad's d5 Stainless Steel line incorporates five-layer bonded construction as well as functional advances. The set is designed to meet the demands of everyday cooking as well as entertaining. Set includes 8" and 10" fry pans, 2-qt. and 4-qt. saucepans with lids, 4-qt. sauté pan with lid and 8-qt. stockpot with lid.
$799
All-Clad Stainless Steel Roasters with Rack
Roast meats, poultry and vegetables to perfection in this heavy-duty stainless-steel roasting pan from All-Clad. High sides reduce splattering, and the well-proportioned upright handles are easy to grasp when you're lifting the pan in and out of the oven.
$159.95-$199.95
Wüsthof Classic 7-Piece Knife Block Set
Classic knives in this set have specially formulated high-carbon-steel blades that hold a keen edge. Full tangs increase balance, and the triple-riveted polypropylene handles ensure a comfortable grip. Includes 3 1/2" paring knife, 6" utility knife, 8" chef's knife, 8" bread knife, 10" honing steel, stainless-steel pull-apart shears and 13-slot storage block.
$299.95
Two In The Kitchen Cookbook
Check out this ultimate gift for newly married or engaged couples.  Featuring real life couples and their stories (including moi and my hubby!) Two in the Kitchen features 150 recipes for every occasion—breakfast and brunch, weeknight dinners for two, cocktail hour, dinner parties, festive holidays and more. Inspired by blogs and spiced with personality and humor, this unique collection includes anecdotes and firsthand experience from cooking couples across the country.  Not your mom's cook book!
$34.95
All-Clad Stainless Steel 7 Piece Cooking Tool Set
Made of heavy-gauge polished stainless steel, the tools in this set – spatula, pasta fork, roasting fork, skimmer, solid spoon and ladle – are gathered in a matching canister for convenient storage. Set includes a spatula, pasta fork, roasting fork, skimmer, solid spoon, ladle and storage canister.
$129.95
Trudeau Graviti Electric Salt & Pepper Mills
Adding fresh-ground sea salt or pepper to food can be as effortless as a flip of the wrist. Invert these battery-operated mills over food, and their blades begin to whirl. Turn them upright, and the mechanisms shut off.
$39.95
Acacia Cutting Board
Made from the richly grained dark wood of the acacia, this cutting board makes a beautiful, enduring addition to the kitchen. End-grain construction makes it durable enough to withstand heavy daily use.
$60
Vintage Silver Cheese Knives
Inspired by the classic look of vintage metal, these knives combine antiqued brass and stainless steel to create essential tools for modern entertaining. Blades are designed especially for cutting and serving different types of cheeses. Use the wide, curved blade for crumbly blues. The pronged blade is ideal for firm or hard cheeses. For soft and semi-soft cheeses, use the versatile spreader. Wide, curved blade: 6 1/2" long. Pronged knife: 7" long. Spreader: 5 1/2"-7" long. Dishwasher safe.
$29
Wine & Food Cookbook
This approachable guide offers a broad overview of wine that focuses on general styles – rather than the minutiae of specific varietals and regions – to help simplify wine-and-food pairings.
$29.95
Insulated Cocktail Shaker
A well-made cocktail shaker is essential equipment for any home bar. Made of polished stainless steel, this shaker features double-wall construction that provides insulation that keeps drinks cool and minimizes condensation on the outside.
$40
Riedel Ouverture Gift Set
The Ouverture collection is Riedel's introductory wineglass series for everyone from the novice to the expert.  The durable, all-purpose glasses also make an easy-care option for entertaining. Twelve-piece set includes 4 red wine glasses, 4 white wine glasses, and 4 champagne glasses. 
$79.95
White Wash Chalkboard + Place Cards
Handwrite the names of guests in chalk on these petite chalkboard place card holders or write your menu of the evening on a chic chalkboard display. Distressed wood frames create a pleasing contrast to the chalkboards within. 4" x 3" x 2 1/2". Set of four. Chalkboard is 11" x 14".
$29-$39
Monogrammed Stainless Steel Bar Tools Set
As with so many pursuits, mixology is more enjoyable and successful when you use the proper equipment. Our set offers all the essentials for a well-appointed home bar. A sandblasted single-initial monogram adds a sleek and distinguished personal touch . Crafted of sleek and durable stainless steel. Includes all the essentials: strainer, jigger, bottle opener and ice tongs.
$34.95
3-Tiered Stand
The perfect blend of timeless tradition and sleek, modern style, this sophisticated serving piece is great for everything from casual get-togethers to your most elegant parties. This stand combines polished nickel-plated aluminum and clear glass to create a classic triple-tiered stand that's as versatile as it is beautiful. Count on it for serving all your favorite finger foods, from appetizers to mini desserts.
$139

---


---
Home Baked Comfort > williams-sonoma.com, Maple Rolling Pin > williams-sonoma.com, 6 Piece Essential Bakeware Set > williams-sonoma.com, Kitchenaid Artisan Stand Mixer > williams-sonoma.com, Artisan Ruffled Pie Dish > williams-sonoma.com, 10 Piece Glass Bowl Set > williams-sonoma.com, Monogrammed Small Covered Pedestal > williams-sonoma.com, His + Hers Aprons > williams-sonoma.com, All-Clad Stainless Steel 10 Piece Set > williams-sonoma.com, All-Clad Stainless Steel Roasters with Rack > williams-sonoma.com, Wüsthof Classic 7-Piece Knife Block Set > williams-sonoma.com, Two In The Kitchen Cookbook > williams-sonoma.com, All-Clad Stainless Steel 7 Piece Cooking Tool Set > williams-sonoma.com, Trudeau Graviti Electric Salt & Pepper Mills > williams-sonoma.com, Acacia Cutting Board > williams-sonoma.com, Vintage Silver Cheese Knives > williams-sonoma.com, Wine & Food Cookbook > williams-sonoma.com, Insulated Cocktail Shaker > williams-sonoma.com, Riedel Ouverture Gift Set > williams-sonoma.com, White Wash Chalkboard + Place Cards > williams-sonoma.com, Monogrammed Stainless Steel Bar Tools Set > williams-sonoma.com, 3-Tiered Stand > williams-sonoma.com
---
---