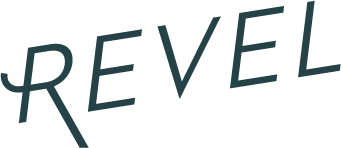 REVEL Beauty: Bridal Hair
After the dress, a bride's hairstyle and makeup tie for the next top priority. Collect your favorite looks and share them with your stylist - leave nothing to chance! We asked the beauty experts at Face Time Beauty Concierge for their favorite bridal hair looks: romantic, classic, beachy, bohemian. Our models?  Only our favorite wedding experts, captured by Jainé of Brklyn View Photography.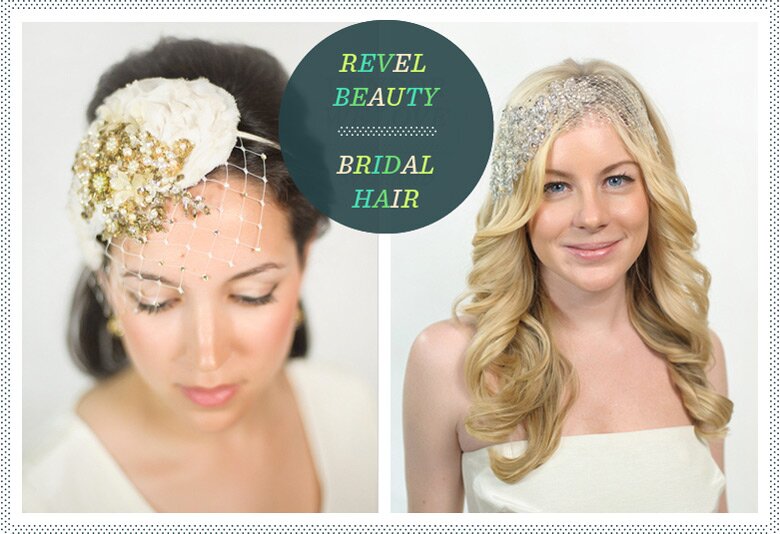 Below on Lauren of Loli Events, a classic half-up, half-down do is pretty and polished, perfect for her shoulder-length bob.  Add a pair of pearl drop earrings, and a classic pearl and pave pin for the ceremony, and you've got 20's glamour.  Finish things off with a couture mini-veil headpiece for a dramatic reception look.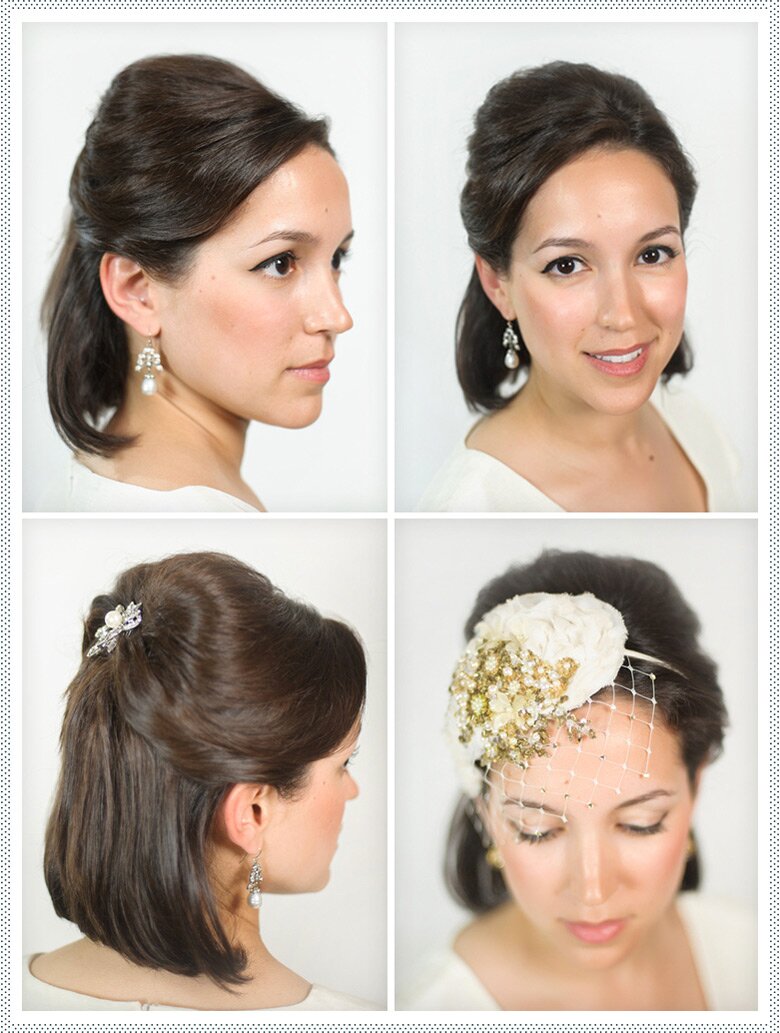 Below left, Newlywish's Amanda put her shoulder-length brunette mane into a timeless, impeccable high updo.  We added a pearl and rhinestone pin, set off by simple pearl stud earrings. Flawless.  
Below right, Auburn-haired Anna of Just About Married swept her lovely locks to one side, and added a dramatic rhinestone pin that shows off her stunning hair color. To keep her lovely natural waves, we kept her hair down and loose, with just a few pins to keep away flyaways.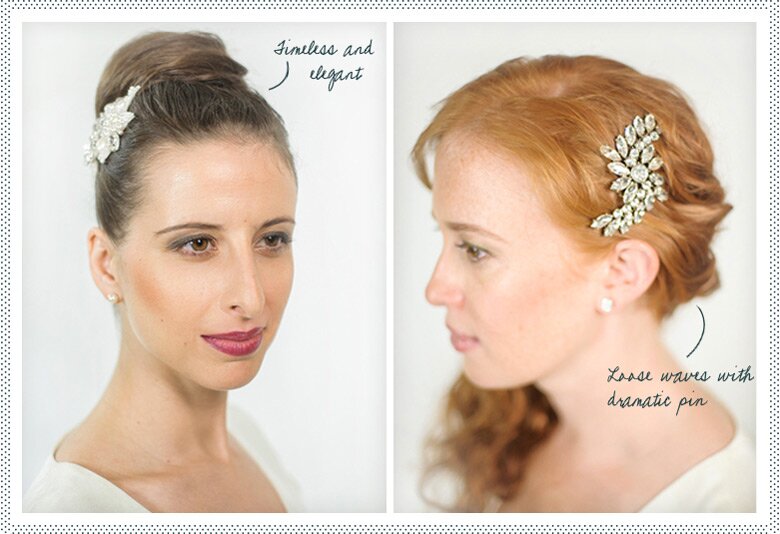 Sarah of  Brilliant Event Planning was an actual bride to be, with a wedding that took place days after our shoot.  Sarah's intricate updo (below) wove in a lovely braid together with romantic pin-tucked curls. It's a showstopper.  100% Downton Abbey.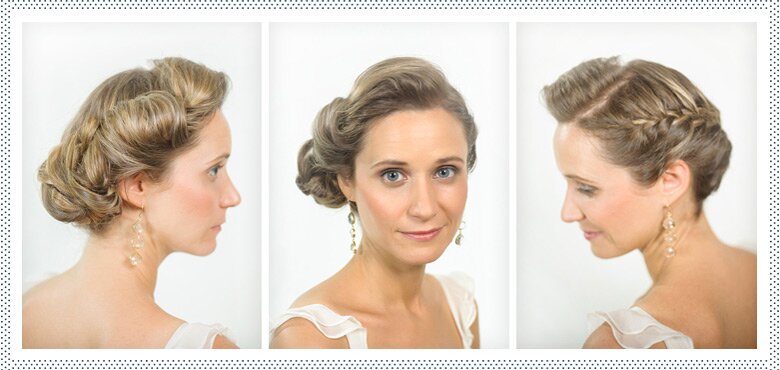 And for you ladies wanting perfect locks for all weekend long?  Jackie of Merci New York shows you how it's done. Below, top - her blond locks are styled into loose waves perfect for a destination wedding, a rehearsal dinner, or a daytime shower.  Add a mini-veil headpiece from Jackie's shop on  to amp up your look, or an intricate rhinestone headband (bottom, right) for a boho-chic vibe.  For the ceremony, a soft, low chignon (bottom, left) is a timeless beaut.  Yes, you can have it all.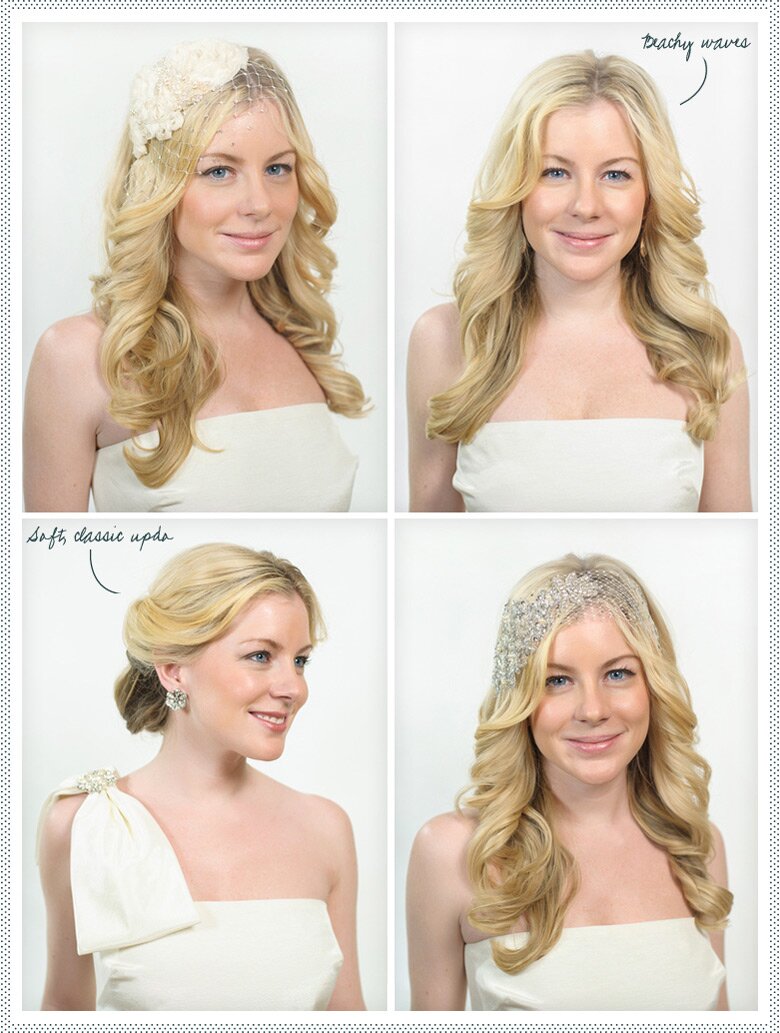 We styled our lovely models with baubles from Greenwich Jewelers, and hairpieces from Gabriella Bridal Salon, Jackie's on Newlywish, and Shopbop.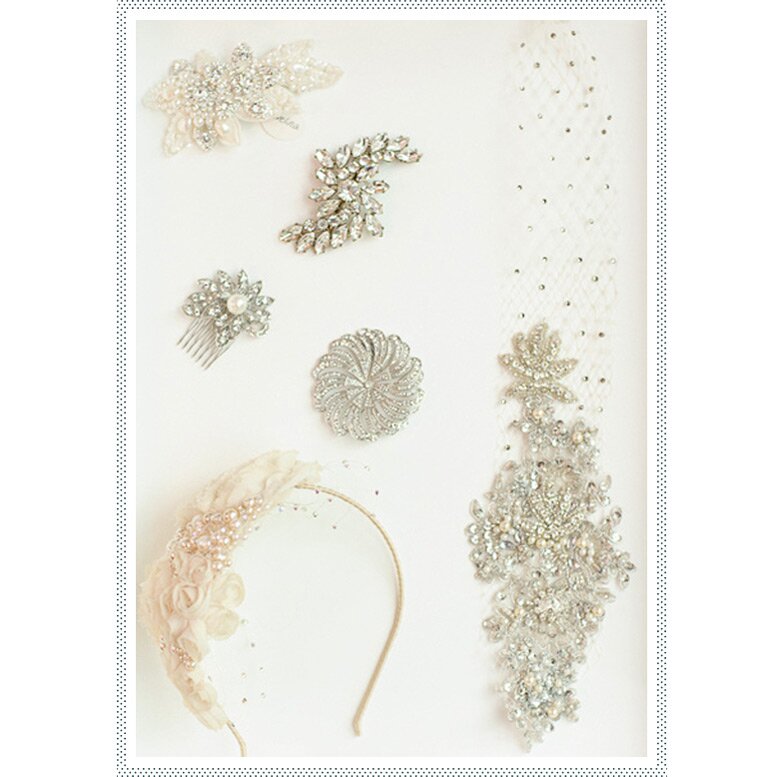 Ready to get gorgeous with uber-enviable tresses?  Make sure to check out our Bridal Beauty Basics for a refresher on makeup to go with your Rapunzel locks, and you're ready to stun.  Look out, world.  

Who made the magic happen? 
Creative Direction: REVEL
Hair: Face Time Beauty Concierge
Photographer: Brklyn View Photography
Models (in order of appearance): 
     Lauren, Loli Events, wedding planner extraordinaire
     Amanda, founder of Newlywish, a wedding registry for unique and fabulous gifts
     Anna, day-of planning expert, Just About Married
     Sarah, proposal and wedding planning genius, Brilliant Events
     Jackie, founder and creative director of Merci New York, a fashion, event and prop styling house
Jewelry: Greenwich Jewelers
Headpieces: Gabriella Bridal Salon, Merci Style Shop at Newlywish, and Shopbop
 
Crystal Brooch
This crystal-filled pin from Greenwich Jewelers adds sophisticated sparkle to any dress or as a hair accessory!
$129
Crystal Hair Pin
This antiqued gold-plated hair pin from ban.do features faceted crystals. The perfect touch of sparkle for your wedding day! 2.5 inches wide and 3.5 inches long.
$130
Swarovski Crystal Embellished Head Piece
Beautiful delicate French veiling - adorned with French silver lace Preciosa pearls and sprinkled with tiny Swarovski crystals by Jannie Baltzer. Available in silver and ivory/silver. Handmade in Copenhagen.



$360
French Lace Headband
An abundance of chiffon flowers and French lace, covered with the softest mix of Preciosa pearls create this gorgeous headband from Jannie Baltzer. The small delicate French veiling is sprinkled with tiny gold crystals. Available in ivory/gold (shown) and ivory/silver. Attached to a silk ribbon-wrapped skinny headband. Handmade in Copenhagen.


$360
Pearl Embroidered Hairclip
This hairclip from Jannie Baltzer is adorned with pearlized sequins, Edwardian Lace, vintage inspired crystals and Preciosa pearls. Handmade in Copenhagen.
$290
Jeweled Flower Comb
Sweep your hair back with a romantic jeweled hair comb like this one from from J. Crew! 
$68
---


---
---
---