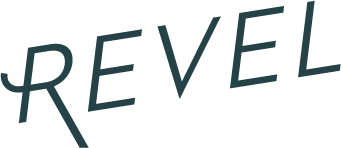 REVEL Picks: For The Home
When it was time for my husband Quinn and I to register for our new apartment, we had a million questions. What did we want our style to be? Was our home going to have a modern loft feel or go vintage chic? Did we want bright colors or timeless neutrals?
We finally decided on what I'd call a Modern Classic look. Neutrals of grey and slate blue set the tone with wood accents and pops of sunny yellow. Over a year later our tiny apartment is our cozy first home complete with a cuddly rescue cat named Oscar!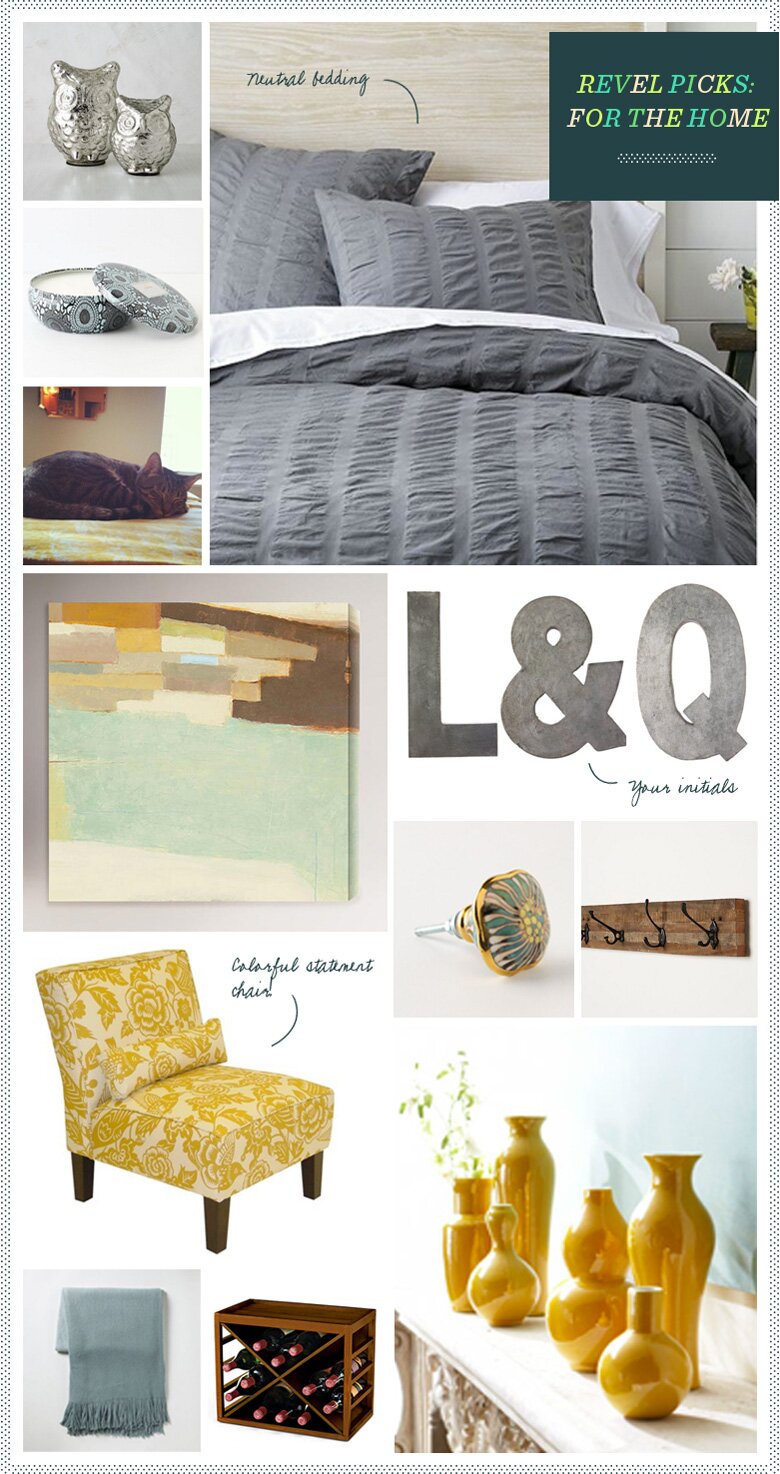 For more registry ideas check out REVEL Picks: Registry Basics!
Zinc Initials
Quinn and I used these zinc letters from Anthropologie as decor on the cake table at our wedding. Now they're displayed in our home!
$18 each
Colorful Throw
These extra-soft Sunset Throws from West Elm are perfect for adding a pop of color to the room. Dip-dyed to create an ombre effect—a perfect warming layer for a sofa or bed. Available in nine colors. Shown in Sea.
$49
Wood Wine Rack
One of our favorite pieces we registered for was a wood wine rack like this one from Macy's! It's decorative and made of sturdy, walnut-stained hardwood. Great for the countertop or stacking from floor to ceiling.
$59.99
Colorful Statement Chair
Timeless, retro and vintage all describe this armless accent slipper chair from Target. Perfect for adding bold color to a small space. It also includes a small kidney pillow for added comfort.
$299.99
Organic Seersucker Duvet Cover
We wanted elegant, neutral bedding that wasn't too fussy or overly feminine. This duvet cover was West Elm adds subtly striped texture, while the crisp color options make it a snap to update your bedroom's whole look.
$24-169
Wood Coat Hook
This simple stretch of reclaimed wood with cast iron catches reminds us that organizing can be as easy as 1-2-3. I use mine from Anthropologie to display colorful scarves year round!
$88
Colorful Pulls
A simple coat of paint and colorful new pulls gave our bedroom dresser a fresh new look. These dusty blue and gold pulls from Anthropologie work perfectly with our color palette. 
$10 each
Scented Candles
These Voluspa Japonic candles make our little apartment smell fabulous! Three wicks glow over a flower-sketched tin filled with richly fragrant wax. My favorite is French Cade: a refreshing blend of French cade wood, lavender, verbena and moss. Available in six scents.
$18
Wall Art
A bold piece of art can be used to tie in colors from around the room. This wall art by Sean Jacob conveys a sense of serenity with a contemporary flair. Available at West Elm. 
$89.99-199.99
Furry Friend
There's nothing in the world quite like coming home to a pet super excited to see you! Our rescue cat Oscar loves to roll over and show us his spotted belly when we walk through the door!
Yellow Vase Set
Grouped together or scattered about, these vibrant yellow vases from Horchow add a splash of sunny color to any space.
$245 for a set of six
Wise Little Owls
These quirky little mercury glass owls from West Elm give character to any bookcase or shelf! Available in two sizes. 
$14-19
---


---
Zinc Initials > anthropologie.com, Colorful Throw > westelm.com, Wood Wine Rack > macys.com, Colorful Statement Chair > target.com, Organic Seersucker Duvet Cover > westelm.com, Wood Coat Hook > anthropologie.com, Colorful Pulls > anthropologie.com, Scented Candles > anthropologie.com, Wall Art > worldmarket.com, Furry Friend > animalhumanesociety.org, Yellow Vase Set > horchow.com, Wise Little Owls > westelm.com
---
---